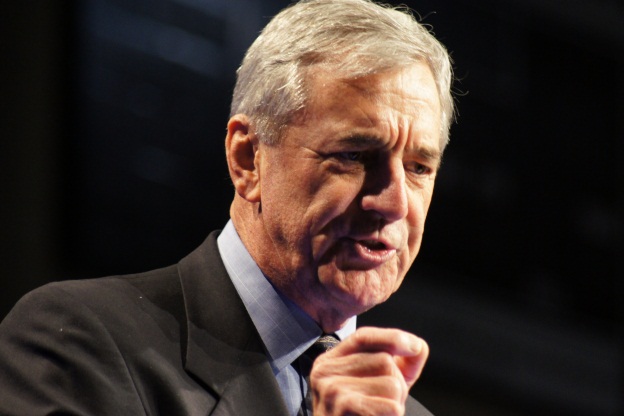 Two 8th district polls for your Labor Day weekend
Two Democratic campaign organizations, the DCCC and the House Majority PAC, dropped internal polls of the race in Minnesota's eighth congressional district on Thursday, just before the holiday weekend.
Here they are, first, the poll commissioned by the DCCC.
Global Strategy Group (8/30, no trend lines):
Chip Cravaack (R-inc) 44
Rick Nolan (D) 45
(MoE: ±4.9%)
And here's the poll commissioned by the House Majority PAC.
GBA (8/30, no trend lines):
Chip Cravaack (R-inc) 44
Rick Nolan (D) 47
(MoE: ±4.9%)
The big takeaway from both of these polls is not necessarily the performance of Rick Nolan, but rather, the performance of Chip Cravaack, in that he is well below 50%, worse, he is below 45% in both polls.
This is a dangerous place for an incumbent to be, especially with just two months to go till the election, while he may have some room to grow, he certainly doesn't have as high of a ceiling as Rick Nolan.
The Global Strategies Group poll doesn't disclose name recognition numbers, but the GBA poll does, and they are about what you would expect, 86% of respondents have heard of Chip Cravaack, while 59% of respondents have heard of Rick Nolan.
Yet despite this 27 point name recognition gap, Rick Nolan leads in both polls. This is not good news for Chip Cravaack.
The caveat is, of course, that these are internal Democratic polls. If we don't see a response from the Cravaack campaign or one of the relevant Republican campaign groups however, than we can pretty much conclude that the numbers are accurate.
The GOP has a lot of turf to defend in the house this year in order to hold onto their majority and not a lot of offensive opportunities. Not only that, there is another race in this very state, the second congressional district, in which the GOP may find it needs to spend money.
The thing to watch in this race is what the GOP groups do over the next month, whether they continue to pour money into this race or whether they pull up stakes.
This race looks to be one that will fall into a spectrum of being close right up until election day, or one in which Nolan runs away with it. And the level of investment of outside groups on Chip Cravaack's side will tell us a lot about where on that spectrum this race really is.
—
Both of these polls follow the standard internal polling format of asking the horse race questions up-front and then giving the respondents a positive bio of each of the candidates and asking the horse race question again.
You can pretty much throw out the post-bio read numbers for purposes of assessing the state of play of the race.
While these types of exercises may be valuable for the campaigns themselves, It's easy to read too much into them. This is because we have no way of knowing what people will end up hearing about the two candidates between now and election day, and it's doubtful that what they hear will be this positive and upbeat.
It may or may not mean something that the numbers move about the same amount after the bios are read in both polls, but again, I wouldn't read too much into it.
The initial round of horse-race questions though, the ones quoted in the post above, almost certainly do have some value though.
Thanks for your feedback. If we like what you have to say, it may appear in a future post of reader reactions.