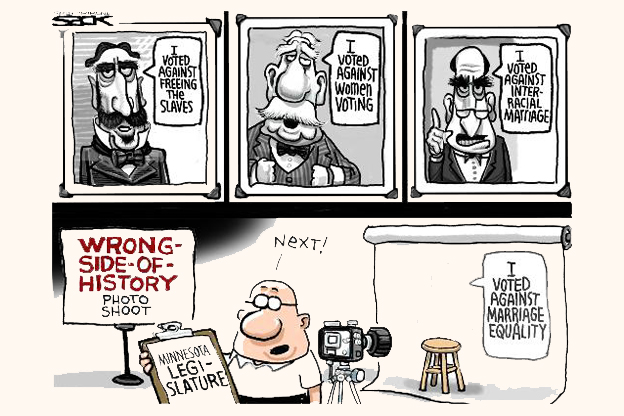 Katherine Kersten throws in the towel!
Implicitly recognizing the inevitability of marriage equality in Minnesota
One by one, legislators on the fence, or even heretofore opposed to marriage equality, are concluding they don't want to sit for Steve Sack's portrait photographer. As a consequence, it is pretty clear that Katherine Kersten recognizes that the anti-equality horse has been dead for some time, and that there is no use in continuing to flog it. She's a farm girl, you know.
So, what to do?
Well, write another screed on profligate DFLers in the Legislature, of course. But it has to be like playing in the consolation round for Kersten.
I was put in mind of a post I wrote 2011 when the constitutional marriage amendment fight was on in the Legislature, reflecting on Kersten's Easter words and embedding a video from The Uptake of Steve Simon talking about the amendment in a House hearing: All things bright and  beautiful.
Thanks for your feedback. If we like what you have to say, it may appear in a future post of reader reactions.