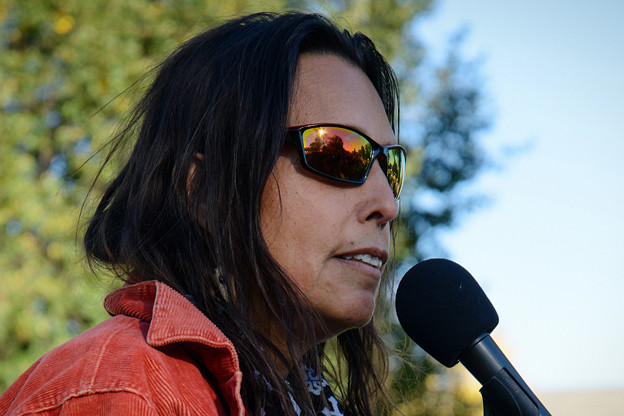 Stop PolyMet! – the rally
There was a sizable rally last week in St. Paul to deliver a simple message to the Minnesota Department of Natural Resources: Stop PolyMet's sulfide mine. It started on what is known as Railroad Island with music and speakers and then the attendees marched to the DNR Headquarters.
The event was headlined by activist and vice presidential candidate Winona LaDuke (you should really go and read about her at the link if you're not familiar with Winona). Other speakers included Steve Morse, the Executive Director of the Minnesota Environmental Partnership (and former legislator and DNR employee) and Bob Tammen, a former miner from the Tower – Soudan area and a knowledgeable and implacable adversary of copper-nickel sulfide mining.
The rally was sponsored by the Minnesota Environmental Partnership, MPIRG, the Friends of the Boundary Waters Wilderness, the Friends of the Cloquet Valley State Forest, the Sierra Club's North Star Chapter, WaterLegacy, the Minnesota Center for Environmental Advocacy, and Save Our Sky Blue Waters.
Here are some photos from the event.
Thanks for your feedback. If we like what you have to say, it may appear in a future post of reader reactions.