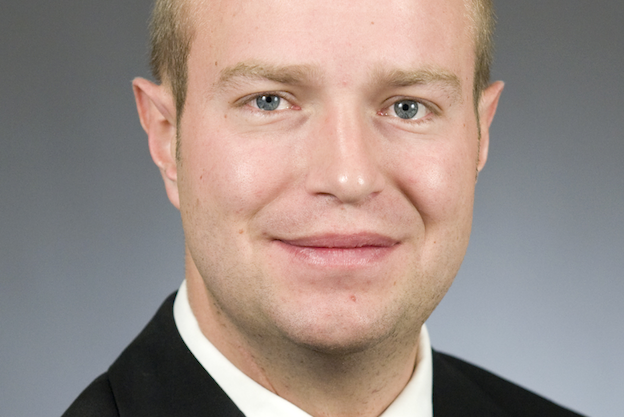 Who is the Most Online Minnesota Legislator?
For reasons known only to myself I was on the Twitter Dot Com profile page of Minnesota State Representative Nicky Zerwas the other day. While on that profile page I noticed something. Upon noticing this thing I may have muttered something like "my god" under my breath. What is this thing I had noticed about the Twitter Dot Com profile page of Nicky Zerwas?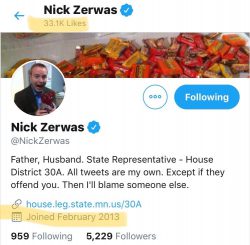 33,100 Likes! That's 13.5 Likes per day on average since he joined Twitter. That seemed to me like a lot of Likes, but at the time I had no context. Was this a lot of Likes? Is Nicky Zerwas Too Online? I felt like this deserved a proper investigation.
First I checked out some other Twitter profiles to see how Nicky compared. How many tweets had I Liked?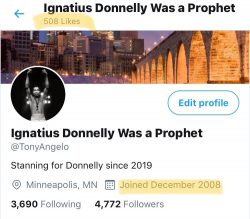 Not many as it turns out. In fact, a hilariously small amount at 508. But I've gone through long stretches of not being on Twitter and am a cynical curmudgeon who hates everything and everyone. I checked out a different Twitter profile, the first Really Online Minnesota Conservative who came to my mind.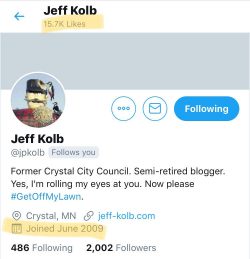 Jeff Kolb, at 15,700, had half as many Likes as Nicky Zerwas in almost four more years of being on Twitter.
At this very early point in my investigation it seemed likely to me that Nicky Zerwas was in fact Really Online. Was he the Most Online though? Specifically, was he More Online then other members of the Minnesota Legislature?
To find out I fired up the ol' Twitter Dot Com Application Programming Interface, plugged in the Twitter names of all the Minnesota Legislators that I could find and computed the results. I'm using the number of Likes only, because while it's fairly easy for people to delete their past Tweets, it's much more difficult to delete Likes.
Without further ado, here are the Top Ten Most Online Minnesota Legislators (results compiled the morning of Nov 5 2019):
10
Rep. Jay Xiong (@RepJayXiong)
4,516 Likes
Joined on Nov 20, 2017
6.3 Likes/day
9
Rep. Carlos Mariani (@Cmarianirosa)
21,514 Likes
Joined on Oct 11, 2010
6.5 Likes/day
8
Rep. Melissa Hortman (@melissahortman)
22,860 Likes
Joined on Jun 25, 2010
6.7 Likes/day
7
Sen. Michelle Benson (@SenatorBenson)
22,875 Likes
Joined on Jan 31, 2011
7.1 Likes/day
6
Rep. Jeanne Poppe (@RepPoppe)
25,139 Likes
Joined on Jul 22, 2011
8.3 Likes/day
5
Rep. Rick Hansen (@reprickhansen)
16,622 Likes
Joined on Dec 12, 2014
9.3 Likes/day
4
Sen. Susan Kent (@SusanKentMN)
27,763 Likes
Joined on Jan 7, 2013
11.1 Likes/day
3
Sen. Chris Eaton (@EatonSenator)
29,640 Likes
Joined on Aug 3, 2013
13 Likes/day
At this point you may be thinking, given the header image and way the blog started, that the Number 1 Most Online Minnesota Legislator is probably our old friend Nicky Zerwas. If that's the case you may be disappointed to find out that Nicky Zerwas is only the Number 2 Most Online Minnesota Legislator, just barely edging out Senator Chris Eaton with 13.1 Likes per day.
2
Rep. Nicky Zerwas (@NickZerwas)
33,212 Likes
Joined on Feb 11, 2013
13.1 Likes/day
And now, drumroll please, for the winner of the Most Online Minnesota Legislator…
1
Rep. Jamie Becker-Finn (@jbeckerfinn)
24,506 Likes
Joined on Apr 22, 2015
14.8 Likes/day
Representative Jamie Becker-Finn combines a lot of Likes with the second shortest time on Twitter of the entire Top Ten (the shortest of the top nine) to easily run away with the title of The Most Online Minnesota Legislator.
To put a bow on this thing, I think it's safe to say my initial impression was correct; Nicky Zerwas is Really, Really Online. Put down the phone Nicky, there's a whole wide world out there waiting for you to explore. Stop scrolling and start strolling Nicky!
Thanks for your feedback. If we like what you have to say, it may appear in a future post of reader reactions.