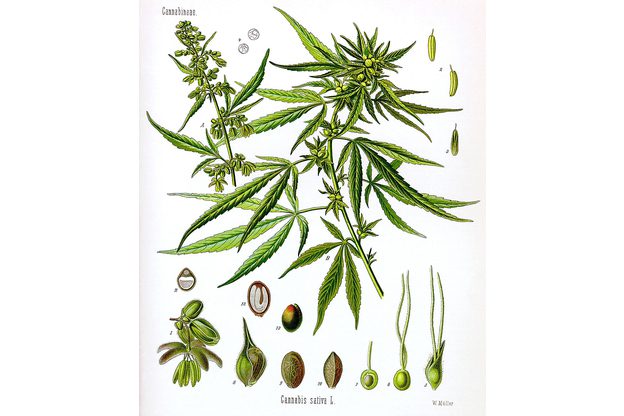 A polite suggestion for Minnesota's marijuana parties
I haven't been able to find where anyone has done a conclusive analysis, as to whether the Legal Marijuana Now and/or Grassroots/Legalize Cannabis parties actually cost the Minnesota DFL the opportunity to legalize it in the last legislative session. I'm not sure it's possible to provide a definitive answer. (Though this, from a pro-legalization website, arguably makes the case that the answer is clearly "yes." However, it was written before Sens. Bakk and Tomassoni pulled their selfish, obnoxious crap.)
I think it's pretty clear, though, that if they're pulling any votes from the DFL, and they almost certainly are, they're in fact hurting, not helping, the cause of legalization in Minnesota. A DFL legislature, and Gov. Tim Walz, will get it done, given the chance.
I was also unable to find anything about any kind of legal process for disbanding a political party in Minnesota, or a strict deadline for doing so before an election. Apparently you just stop fundraising and fielding candidates, and let the Secretary of State know that you're done, and that's it.
And for the reasons noted above, that's exactly what Minnesota's marijuana parties should do.
I know that the leadership of the marijuana parties means well. I'm not blaming anyone for anything. I'm just suggesting that people should think about whether this third parties approach is the right way to go. I for one think it's pretty clear that it's not, when it comes to the ultimate goal of legalization that we share.
– o O o –
A footnote from Steve: Dan is more charitable than I am. I agree with his point entirely, but I am more willing to assign blame to the marijuana parties and fault them for falling into self-aggrandizement and serving as useful idiots for the Republicans, and Paul Gazelka, especially.
Comment from Mac Hall: Since the parties are not active in all legislative districts, why not encourage their supporters to reject those who voted against HF600 (recreational cannabis) last session ?
Akland Albright Anderson Backer Bahr
Baker Bennett Bliss Boe Burkel
Daniels Daudt Davids Demuth Dettmer
Drazkowski Erickson Franson Green Grossell
Gruenhagen Haley Hamilton Heinrich Heintzeman
Hertaus Igo Johnson Kiel Koznick
Kresha Lucero Lueck Marquart McDonald
Mekeland Miller Mueller Murphy Nash
Nelson, N. Neu Brindley Novotny O'Driscoll Olson, B.
O'Neill Pelowski Petersburg Pfarr Pierson
Quam Raleigh Rasmusson Robbins Sandstede
Schomacker Scott Swedzinski Theis Torkelson
Urdahl
And for those districts that have a candidate, how about a heart-to-heart discussion that their candidacy could actually help elect someone who has voted against their agenda ?
As I recall in the 2020 elections in at least one district, the Legal Marijuana Now Party was the only alternative to the GOP candidate (SD23 David Pulkrabek of the Legal Marijuana Now Party against #MNGOP Julie Rosen) … so a third party candidate is better than having no opposition.
BTW … on the federal level, the House Veterans Affairs Committee is scheduled to hold a hearing on the bipartisan VA Cannabis Research Act of 2021, HR 2916 on Wednesday October 13.
Comment from Mike: There is no question that the Republicans have supported 3rd party candidates as a way to siphon votes from Democratic candidates.
Democratic candidate Angie Craig narrowly lost to Jason Davis in the Trump infested election of 2016.
In 2018 she handily defeated Davis.
In the 2020 election the Republicans recruited Adam Weeks to run as a Pot Party candidate to try and siphon votes from Craig to help Republican Tyler Kistner win.
We know this because Weeks died a few weeks before the election and a friend of his released an audio recording of Weeks admitting the ruse.
https://patch.com/minnesota/applevalley-rosemount/report-gop-recruited-weed-candidate-help-defeat-angie-craig
In the race for Florida's state senate 37th district, Republican Ileana Garcia won by 32 votes over Democrat Jose Javier Rodriguez, after the Republicans funded Alex Rodriguez as a third party candidate who drew thousands of votes.
Indictments have been handed down against the Republican operatives who ran the operation, but Garcia still sits in the state Senate seat.
https://apnews.com/article/miami-senate-elections-florida-elections-e8b70ce3270bd170e37a71ca80b5aaae
The Gingrich philosophy of "win by any means" has fully infested the Republican party. What comes after "storming the capitol?"
Thanks for your feedback. If we like what you have to say, it may appear in a future post of reader reactions.