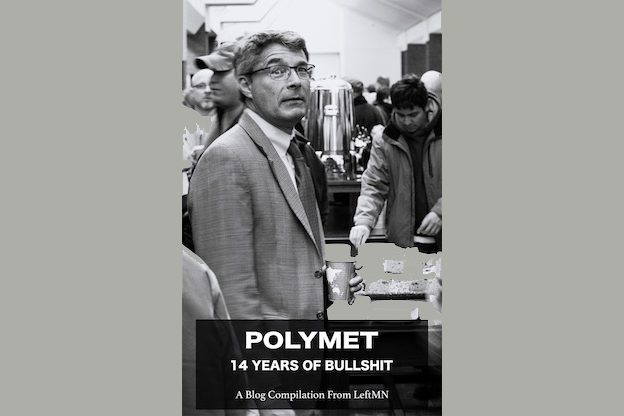 PolyMet – 14 Years Of Bullshit
files: epub | pdf | azw3* | mobi
sites: amazon | apple | nook | kobo
PolyMet: Fourteen Years of Bullshit is the story of ineptitude, inattention, and outright corruption by Minnesota and federal regulators in consideration of permits for copper sulfide mining near Hoyt Lakes, Minnesota for PolyMet Mining, a Canadian penny-stock company and its shadowy bad-boy backer, Glencore Plc. It is also the story of the failure of Minnesota's political leadership to intervene, or even to express much interest in what was going on, despite many signs that the regulators were poised to issue improvident permits, which they did. These permits are currently in litigation in Minnesota and federal courts.
The story is told through an anthology of website blog stories on LeftMN discussing events along the way.
* To transfer the azw3 file to any Amazon Kindle device (except DX devices, the same process is used for DX devices, but with the mobi file instead of the azw3 file):
Using a USB cable (you will probably have to use the USB cable that came with your Kindle), connect your Kindle to the computer you downloaded the azw3 file to. Your Kindle will appear as a USB drive that you can browse.
Navigate to the documents folder on your Kindle, then drag and drop the azw3 file into the documents or ebooks folder.
There is a timeline of the PolyMet permitting saga that you can see here. It will be included in future editions of Fourteen Years of Bullshit.