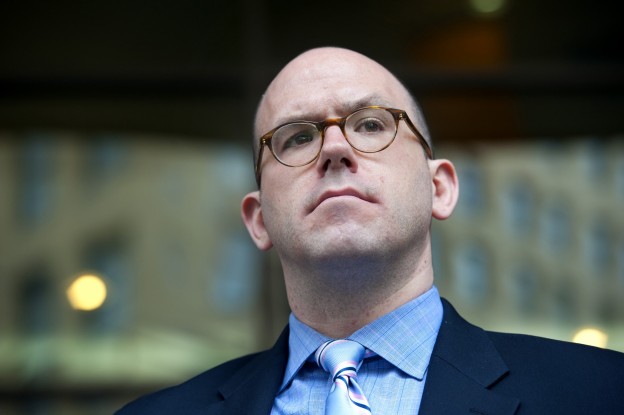 He ain't my brother; he's just a heavy
The institutional voice of the Star Tribune has spoken: the MNGOP ought to clean up the mess it made — all by itself — in the L'affaire Koch-Brodkorb:
State statutes and Senate precedent say that the legal defense costs associated with employment-related suits are to be borne by the taxpayers. But decency and a sense of responsibility for public funds ought to say otherwise in this unusual case.

The Koch-Brodkorb episode was a matter entirely internal to the Senate GOP family. [And what a family it is!] Senate Republicans should feel obliged to spare taxpayers from the cost associated with cleaning up the mess.
The prospect of the MNGOP holding tony (hey, that's kind of a pun!) fundraisers for Michael Brodkorb is almost too delicious to consider. Almost.
But it is more likely that Michael Brodkorb will be struck dead by a meteor while in the arms of Amy Koch — not that Dave and Cal haven't prayed for the meteor scenario — than the Senate being bailed out by the MNGOP.
Dave Senjem has been entirely bumfuzzled by the whole thing since that day that Geoff Michel, David Hann, and Chris Gerlach spotted him coming out of the restroom last December and hauled him to the ill-fated combination presser and Scarlet Letter award ceremony. And Cal Ludeman is too busy making sure he remains within the sheltering arms of Dayle Nolan to be of any help. And almost certainly no movement to the settle the case is going to take place until after the election, and it becomes Tom Bakk's problem.
Nobody, including MNGOP leaders outside the Senate, want to touch this.
The case now seems locked in the grim march of discovery. The Strib calls Brodkorb's pursuit of proof to show that he received disparate treatment "despicable." That's an easy word to toss around, but really, but what else is Brodkorb supposed to do? Just fall quietly on his sword? For the good of the State of Minnesota?
If we're honest about, though, Michael Brodkorb was fired in the most oafish and public way imaginable. He was called a blackmailer and an extortionist, and the Senate tried to deny him unemployment benefits because of his affair after Cal Ludeman said that wasn't why he was fired. And on top of that, he probably was treated differently than female employees who had affairs with their bosses.
Michael Brodkorb was ruined by this. Because he is so unpopular with a lot of people across the political spectrum, that's a likewise unpopular sentiment to voice. But it's true.
Thanks for your feedback. If we like what you have to say, it may appear in a future post of reader reactions.