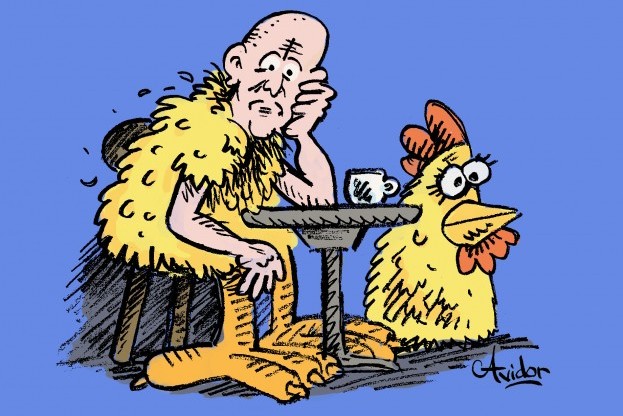 The chicken has come home to roost
In the first installment of genuine pain (that is, the required payment of real money) over L'affaire Brodkorb, Secretary of the Senate Cal Ludeman opened a letter yesterday, threw up in his mouth a little, and ran down the hall — or maybe all the way to Rochester — waving the letter, looking for Dave Senjem.
The letter contained a bill for lawyers's fees in the case that will probably one day be styled Michael Brodkorb v. Calvin Ludeman, individually, and in his capacity as Secretary of the Senate of the State of Minnesota. There might be some other defendants, too: former members of the Republican Senate leadership, including the former Deputy, Geoff Michel. From the Strib story at the link:
Brodkorb was fired after he had an affair with then-Senate Majority Leader Amy Koch. He was terminated in December the day after Koch stepped down from leadership in the wake of senators confronting her about the affair.

The aftermath of the affair hung [like stale flatulence] over the august [an interesting, and we hope, ironic word choice in view of the antics of the Republican freshman class] Senate throughout the session, as Brodkorb prepared his case and Sen. Geoff Michel, who had served as deputy majority leader, was brought up on ethics charges over his handling of the matter. After hours of debate, which the Senate's private attorney watched, an ethics committee deadlocked on whether Michel violated the standards of the Senate.
Reached for comment, Senjem said:
Asked whether he was more inclined to settle with Brodkorb than fight it out, Senjem said: "How do you weigh it? In the end, it is probably lawyers' fees versus [settlement]. … It's just how much time do you put into something like this versus how much do you get out of it?"
That's not what Cal muttered darkly this spring, when he said: millions for defense, not a penny for tribute! Cal earned himself a special place at the defendants' table (and for which he ought to retain separate counsel) over that one:
Separately, [Brodkorb] also warned the Senate that he planned to sue for defamation and demand damages of more than $500,000. He claims that Ludeman defamed him when he told the media that Brodkorb was trying to "blackmail" and "extort payment from the Senate" through his legal case.
We don't know how much the bill is because, according to Ludeman, he "needs couple of signatures." Not, apparently, including Tom Bakk's.
Update: And in other news:
Further update: Dave Senjem, Republican Majority Leader and noted Newtonian physicist (he was a friend of Issac Newton's actually; they were in the Royal Society together; I kid) remarks in a press release today that the Senate has been prudent, indeed, and that "The velocity of the savings continues to grow."
Regrettably, physicist Senjem failed to apply the coefficient of drag, MB, which increases exponentially over time and probably renders Senjem's calculations useless.
Thanks for your feedback. If we like what you have to say, it may appear in a future post of reader reactions.