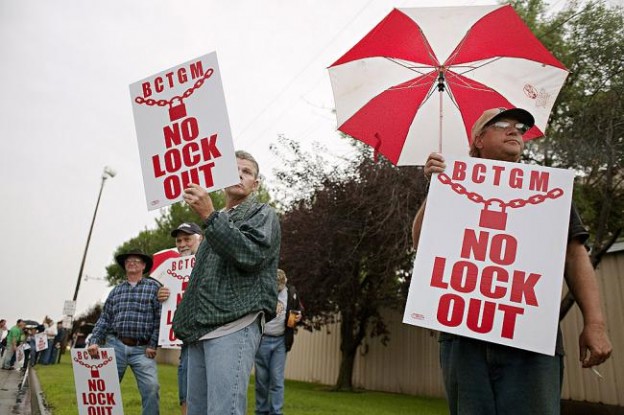 AFL-CIO's Trumka to politicians: give back dirty sugar money
The saga of locked out American Crystal Sugar (ACS) workers continues, but national labor leaders are finally shining a spotlight on ACS's political contributions. Tuesday, AFL-CIO President Richard Trumka sent letters to all 177 members of Congress who've received contributions from ACS's political action committee, asking them to return the dirty sugar money. This includes eight of the ten members of Minnesota's congressional delegation. Sen. Al Franken and Rep. Chip Cravaack have not received political contributions from ACS in this election cycle. All other Minnesota U.S. representatives and senators received contributions, ranging from a low of $1,000 sent to Sen. Amy Klobuchar to a high of $11,750 contributed to the re-election campaign of Rep. Collin Peterson.
Trumka's letter includes a not-so-veiled threat:
This union and its membership have regularly worked together with American Crystal Sugar in advocating to the Congress for provisions in farm bills that protected this industry and promoted good middle-class jobs for communities throughout the area.
ACS's generous political contributions have been crucial in maintaining the significant subsidies given to the sugar industry. The economic success of ACS is largely due to subsidies in farm bills like those that barely survived a 50-46 vote in the Senate in June. However, the farm bill has stalled in the House, and it will be at least another month before the House reconvenes. It's very likely that the House will not vote on the farm bill at all before the November election.
Republican intransigence on the farm bill means that Trumka's call for politicians to return ACS's contributions has some teeth and still has time to work. If pro-worker House members return the money and make it clear that they will not support subsidies for a company that locks out their workers and refuses to negotiate, ACS might be compelled to return to the bargaining table.
I like to think that DFL House members are pro-worker. But from this point forward, it's not acceptable for DFL politicians to simply mouth platitudes expressing concern for ACS workers. They need to take action and heed Trumka's call.
Thanks for your feedback. If we like what you have to say, it may appear in a future post of reader reactions.