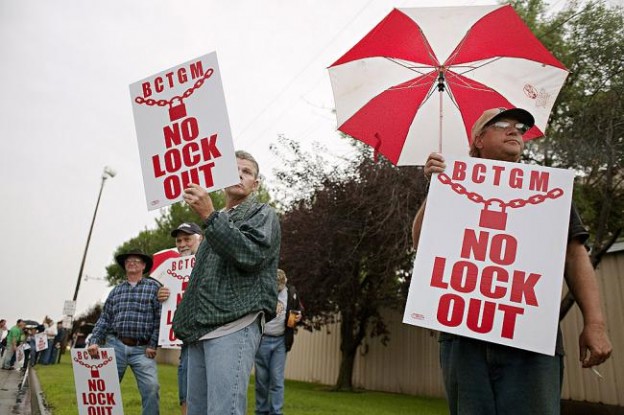 Workers to Crystal Sugar: no, no, no
Saturday, the Bakery, Confectionery, Tobacco Workers, and Grain Millers union representing locked-out American Crystal Sugar workers announced their members rejected the company's "final offer" for the third time. 63% voted no.
Meanwhile, a cavalcade of politicians who express concern about the plight of locked out workers continue to vote for massive subsidies and import controls that help the sugar industry to the tune of $1 billion per year.
On June 13th, the Senate voted 50-46 to table an amendment to the Farm Bill that would have eliminated subsidies to the sugar industry. Senators Franken and Klobuchar voted with the majority, providing two crucial votes to maintain the sugar subsidy program. Subsequently, the Farm Bill, including the sugar subsidy, passed the full Senate 64-35.
Minnesota's DFL politicians have talked tough on the labor dispute, while providing the leadership and votes needed to preserve the sugar subsidy. No wonder ACS feels they can afford to unilaterally impose their contract.
In January, after meeting with locked out ACS workers, Franken intimated that the labor dispute could erode support for the sugar subsidy program. Apparently, not enough to sway his own vote on the issue. Senator Klobuchar also made somewhat similar statements after meeting with ACS CEO Berg and locked-out workers in February. At least Franken and Klobuchar aren't big recipients of ACS's political action committee's largesse, with Klobuchar receiving $1,000 in 2011-2012, and Franken reporting none. For the real money, you have to look on the House side.
ACS's sugar daddy, DFL Rep. Collin Peterson, is the ranking Democrat on the House Agriculture committee. American Crystal Sugar's PAC doles out big contributions to Minnesota's House delegation, $10,750 to Peterson, $10,000 to Tim Walz, $9,000 to Erik Paulson, and $5,000 to John Kline, Keith Ellison, and Betty McCollum during the 2012 cycle.
The amendment vote in the Senate was a crucial inflection point for the sugar subsidy, but the looming House debate presents another challenge. If the sugar subsidy gets through the House, a key piece of leverage that could be used to force the company to the bargaining table to treat their workers fairly will be lost.
Talking tough and expressing concern for the plight of locked-out ACS workers is fine. But doing so while taking thousands in industry campaign cash and voting to preserve their subsidies is wrong. ACS workers have stood up for their right to negotiate a fair contract. The company has unilaterally locked them out, declared their offer non-negotiable, and hired scab workers.
DFL House members should return ACS's campaign money and make it clear that any vote for the subsidy program will only happen when ACS agrees to return to the bargaining table.
Follow me on Twitter @aaronklemz
Thanks for your feedback. If we like what you have to say, it may appear in a future post of reader reactions.