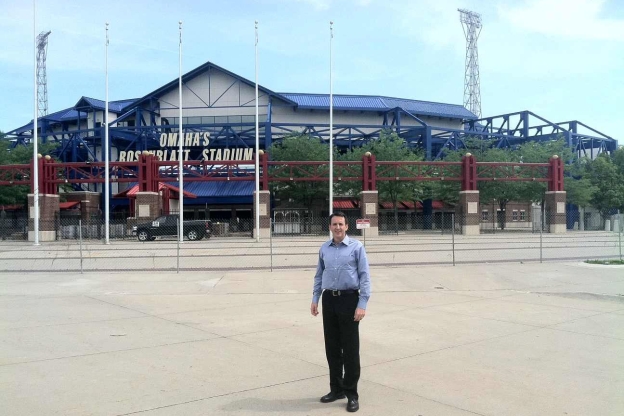 The Weekly Wrap 9-23
Stuff happened this week in Minnesota, and elsewhere, a bit of a recap of a small slice of that stuff that happened in Minnesota follows immediately below.
♣ The big news this week, I guess, is that beloved (I kid!) former Minnesota Governor Tim Pawlenty, like a rat, has fled the SS Romney for the seven figures of green pastures in the private sector.
You may have to read that sentence again. But rather than fix it I decided to add that helpful disclaimer.
♣ Both Representative Michele Bachmann and Jim Graves have ads on the television in Minnesota's 6th congressional district race. Graves started with a bio spot:
And then moved onto this one hitting Bachmann about her response to the Sartell paper mill explosion:
Michele, as is her style, didn't bother with a bio spot (there's this radio ad, but we're talking about TV here!) and instead went right into the fray with a boiler plate, but thankfully sans Jim the Election Guy, ad hitting Jim Graves for being a big spender… or something.
With six weeks left this race has nowhere to go but down!
♣ Speaking of ads, MN United, or Minnesotan's United for All Families if you're not into the whole brevity thing, went up with their first ad:
And then they went up with their second ad:
♣ The pearl clutchers in support of the ban on marriage amendment have released a web ad, #34 of a series they call the "Minnesota Marriage Minute," although this particular effort is a little over 4(!) minutes!
Yowza!
Apparently there was actually such a peer reviewed study… only:
The back-story the spot doesn't delve into: The study in question is the subject of a highly critical internal audit conducted by Social Science Research, the journal that published it in June. The audit will appear in the November issue of the publication.
…
In an interview with the Chronicle, auditor Darren E. Sherkat, a professor of sociology at Southern Illinois University at Carbondale and a member of the journal's editorial board, had a more succinct summation: "It's bullshit."
♣ The Uptake has video, which I've helpfully embedded here, of the debate between Hennepin County Attorney Mike Freeman and voting rights skeptic John Fund:
♣ A not entirely honest GOP direct mail piece, not really shocking, but the people running the operation who sent it? Well, that's not shocking either. But it's certainly interesting!
♣ Tweet of the week:
The Real Question: WHY Don't People Make Enough To Pay Income Taxes? fb.me/voA3Pdo0

— dbly (@dbly) September 19, 2012
Thanks for your feedback. If we like what you have to say, it may appear in a future post of reader reactions.