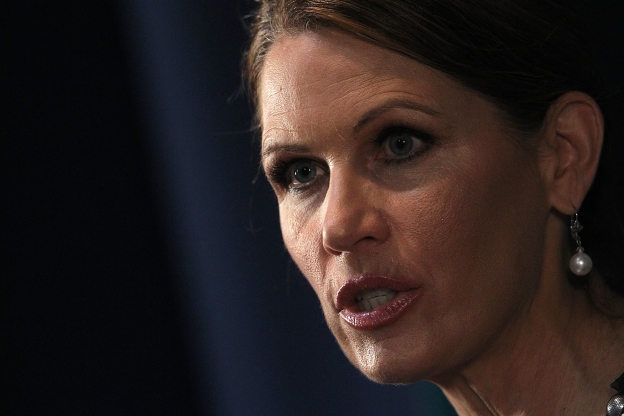 Michele Bachmann under 50, Jim Graves 5 points back
I've always been skeptical of Democrats chances of picking up Minnesota's sixth congressional district, seeing as it is the most Republican leaning in the entire state. Not only that, even more Republican voters got added to it as a result of redistricting.
And now a new poll shows that Michele Bachmann is… omg… UNDER 50%!!!
Here's the toplines of the poll, which it should be noted, is a Jim Graves internal:
Greenberg Quinlan Rosner (6/26, no trend lines):
Michele Bachmann (R-inc) 48
Jim Graves (D) 43
Undecided 9
(MoE: ±4.4%)
Now if you couldn't tell from my slight hint of sarcasm, I'm still skeptical of the "Bachmann is vulnerable meme." Lest we forget this poll, from about the same point last cycle… oh, and from a public pollster to boot:
SurveyUSA (7/12/10, no trend lines):
Michele Bachmann (R-inc) 48
Tarryl Clark (D) 39
Bob Anderson (I) 6
Undecided 5
(MoE: ±4.2%)
If I remember correctly, the response that poll was also along the lines of: OMG!! She's under 50%!!
Well, we all know how that turned out. So while I remain skeptical for now, let's see if there's anything "under the hood" that might make me think otherwise:
Greenberg Quinlan Rosner (6/26, no trend lines):
How would you rate the job being done by Michele Bachmann as Congresswoman — excellent, good, just fair or poor?
Excellent 14
Good 26
Fair 22
Poor 34
Don't know/refused 5
(MoE: ±4.4%)
This is not the typical favorable/unfavorable numbers that you find in most public polls, but rather is typical of internal polling, which of course is what this poll is.
What it shows though is 40% have an Excellent/Good opinion of Michele Bachmann (the polling report says this combo is really 39%, which is probably the result of rounding, but it's the same thing as 40% in a poll with a 4.4% MoE). This is against 34% who have a poor opinion and 22% who have the more nebulous "fair" opinion.
Fair can mean different things to different people, so it's hard to say really how these people feel about Bachmann, but I think a word that sums it up pretty well would be "meh."
The six point difference in her better than fair/worse than fair numbers is similar to the five point gap in the top lines of the poll. Which is similar to the gap between strong supporters in this question of the poll:
Greenberg Quinlan Rosner (6/26, no trend lines):
How certain are you that you would vote for (THAT CANDIDATE) — are you very certain, somewhat certain or not certain at all?
Strong Graves 26
Weak Graves 17
Weak Bachmann 16
Strong Bachmann 31
Undecided 9
(MoE: ±4.4%)
This poll shows lots of different permutations of, what you might call, a built in five point advantage for Bachmann. This is not something that cannot be overcome, but it won't be easy. Jim Graves essentially needs to get about 75% of the undecided vote to get to 50%.
This is no small task for someone starting with almost no name recognition, 20% according to the poll. But this poll does seem to confirm the suspicion that Michele Bachmann is in a slightly weakened position.
Thanks for your feedback. If we like what you have to say, it may appear in a future post of reader reactions.