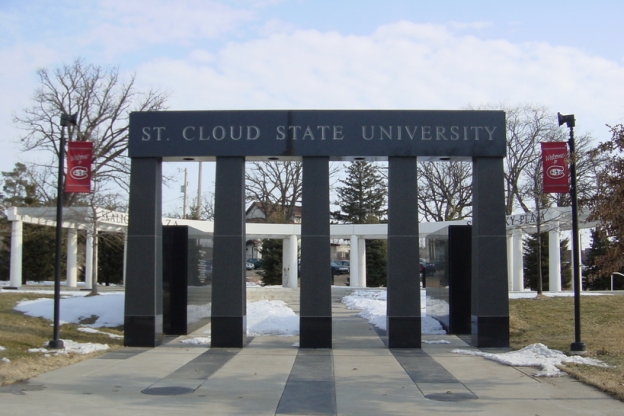 The Weekly Wrap 10-26
There's only eleven days to go until the election. That's only eleven more days for campaigns to talk to voters or eleven more days until the political advertising wave subsides, depending on how you look at it.
♣ St. Cloud State University is out with their customary pre-election poll. The first release, as has become customary among pollsters in Minnesota this election cycle, deals with the two constitutional amendments.
St. Cloud State (10/24, no trend lines):
"Shall the Minnesota Constitution be amended to provide that only a union of one man and one woman be valid or recognized as marriage in Minnesota?" If you were to vote today would you vote for the amendment, vote against the amendment, or not vote on this issue?
Vote For 44
Vote Against 51
Undecided 5
(MoE: ±5%)
This poll represents the best top line we've seen for the Vote No side so far. And while the Vote Yes number isn't the worst top line so far (that belongs to a June PPP poll) it's the second worst.
If you look at the Interactive polling graph linked above, you can see that while this poll may be outside the bounds established by previous polling, it does fit into a sort of composite trend line that shows support for the Marriage amendment falling precipitously since September, while opposition to it has risen.
St. Cloud State (10/24, no trend lines):
"Shall the Minnesota Constitution be amended to require all voters to present valid photo identification to vote and to require the state to provide free identification to eligible voters, effective July 1, 2013?" If you were to vote today, would you vote for the amendment, vote against the amendment, or not vote on this issue?
Vote For 55
Vote Against 39
Undecided 6
(MoE: ±5%)
Ugh.
While the numbers for the Marriage amendment fit into a theoretical composite trend line, the numbers on the Photo Voter ID amendment do too, but not in the right way.
The rolling average, which can be seen at the link to the Interactive polling graph above, shows a continued downward trend though, because the poll that fell out of the rolling average was even less favorable to the opposition than this poll is.
The Politics in Minnesota story which is the source for this item indicates that SCSU planned to released the rest of the numbers on Thursday. Yet, as of right now (Friday afternoon), this has not happened.
♣ Larry Sabato's crystal ball has updated him about MN-8:
Rep. Chip Cravaack (R, MN-8) was down seven points(50%-43%) to ex-Rep. Rick Nolan (D) in a Minneapolis Star Tribune poll released earlier this week. Are these polls perfect? No. We don't believe Nolan is up seven points, and neither does his campaign. But our hunch before the poll came out was that Nolan was leading in this ancestrally Democratic district, and the poll helped to reinforce that.
This was his explanation for why he moved the race to lean Democratic from Toss-up. But if you'd been reading The Weekly Wrap™, you would have known two weeks ago that this was going to happen:
This race has been in the toss-up category in almost all of the national prognosticator's US House race ratings lists. I submit that it won't be long before they start to move this race into the lean Democratic column.
(h/t @RachelSB)
♣ Related to this, the two candidates have released fundraising numbers for the month so far (raised since Qct 1/cash-on-hand):
Chip Cravaack: $227k/$904k
Rick Nolan: $198k/$477k
♣ This November 6th, Minnesota Senate district 5 will be one of the most closely watched battlegrounds in the state. There are three legislative races in the district and three incumbent on incumbent match-ups.
I've got all three of them rated as Toss-ups and many people I've spoken to share that same feeling.
Aaron Brown, on his MinnesotaBrown blog, has videos of debates between all six candidates in this district (not all at once).
♣ TwoPuttTommy first broke the story in this post "Conflict of Interest? David Hann, GOP Health Insurance Salesman."
And then FOX9 decided that they would take a look at what exactly David Hann is up to as well. But Senator Hann was too busy campaigning to talk about such things.
The money quote from that story:
The strange thing is, we've worked this story all day long and we still don't know what Senator David Hann does for a living.
Nice work TwoPutt!
♣ I can't imagine that Letters to the Editor really matter all that much, but I tend to think that about most things that campaigns do, so it could just be me. But even if you're going to do the LtE thing, this is most certainly not the way to do it.
♣ In the matter of the continuing legal issues involving the now defunct "Count Them All Properly," former Minnesota Republican Party Chairman Tony Sutton is being defended by none other than Doug Kelley. If that name sounds familiar, he's the guy who was responsible for untangling all of the various Tom Petters's business entities and selling them off.
And what's your point, is what you the reader might be asking right now. There's nothing wrong with Doug Kelley defending Tony Sutton in a totally unrelated matter, is yet another thing that you the reader might be thinking. And you, the reader, because you're so smart no doubt, would be absolutely correct to think those things.
But those things are not the point of this item.
No, the point of this item is that Bridget Sutton, wife of the aforementioned Tony Sutton, took to the Twitter on Monday night to recommend a documentary (Sutton's original tweet is now gone, so this Avidor response will have to suffice):
@bridgetsutton links to film "The Second Fraud"? Does she agree about Doug Kelley & "second victimization"? thesecondfraud.com/Second_Fraud/A… #stribpol

— Ken Avidor (@Avidor) October 22, 2012
The point being, that the documentary she is recommending is purported to be about how Doug Kelley, the lawyer currently defending her husband, perpetrated a second fraud on top of the first fraud.
But I guess Amy Klobuchar is tangentially involved somehow, so, you know, don't pay attention to those parts concerning Doug Kelley. Just pay attention to the parts about Amy Klobuchar.
Really, I couldn't make this stuff up even if I tried.
♣ And the guy who made the above mentioned documentary, Bill Hillsman, has teamed up with Minnesotans for Equality and Chris Kluwe to cut a radio ad. The ad is targeted at what can be called the "Jesse vote," and will air on KFAN, KQRS and 93X.
Link to MP3 of Kluwe/Hillsman Vote NO Radio Ad
Thanks for your feedback. If we like what you have to say, it may appear in a future post of reader reactions.