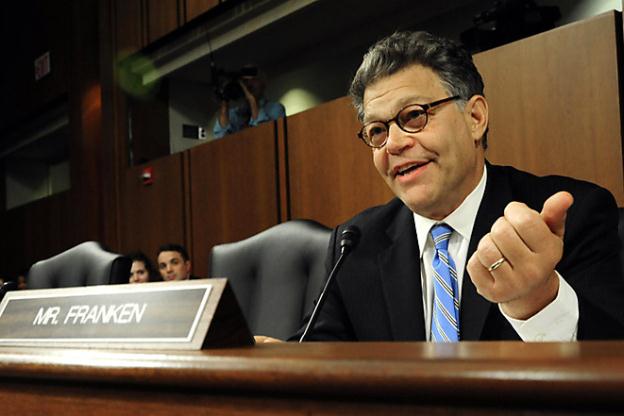 Al Franken looking good for re-election
Public Policy Polling released a poll concerning the 2014 race for Minnesota's United States Senate seat currently being sat in by Al Franken. There is no declared Republican opposition yet, it's still early, but as PPP does, they threw the kitchen sink of Minnesota Republicans at Franken.
PPP (1/22, no trendlines):
Al Franken (D-inc) 54
Michele Bachmann (R) 40
Undecided 7

Al Franken (D-inc) 50
Norm Coleman (R) 44
Undecided 7

Al Franken (D-inc) 49
John Kline (R) 41
Undecided 11

Al Franken (D-inc) 50
Erik Paulsen (R) 39
Undecided 11
(MoE: ±3%)
Against all of the non-Bachmann GOP opponents, Al Franken is right around 50%. Against the Bachmann opponent, he is doing better than that.
It's probably not an overstatement to call this collection of four congresspeople and former congresspeople the Minnesota GOP's A-team. And Al Franken smokes them all.
These numbers are not quite at Amy Klobuchar's level of two year out pre-election polling against the Minnesota GOP A-team, but they're close.
PPP (12/7/10, no trend lines):
Amy Klobuchar (D): 56
Michele Bachmann (R): 39
Undecided: 4

Amy Klobuchar (D): 54
Norm Coleman (R): 40
Undecided: 6

Amy Klobuchar (D): 56
Tom Emmer (R): 38
Undecided: 6

Amy Klobuchar (D): 53
Tim Pawlenty (R): 43
Undecided: 4

Amy Klobuchar (D): 52
Eric Paulson (R): 34
Undecided: 14
(MoE: ±3.2%)
A lot of the names of the opponents are the same and the corresponding results are pretty similar, Al Franken performs a few points worse than A-Klo did at about the same point in their campaigns. I don't know if that means the results will be similar though.
There is no doubt that some Republicans with aspirations for higher office sat out the race against Klobuchar in order to challenge what the conventional wisdom suggested would be the much weaker opponent, Al Franken.
Meaning Franken is likely to face a stronger opponent than Kurt Bills. And really, how could he not? Regression to the mean suggests that Franken is almost certain to face a tougher opponent than Klobuchar did.
Again, how could he not?
And unlike in 2012, it would be shocking if Franken didn't see a bunch of outside money get spent against him. He won't get the free pass that A-Klo did, babies will have to be kissed and wads of money will have to be raised.
But four years after winning by the thinnest of margins, Al Franken has put himself in an excellent position for re-election.
For laughs, let's look at who Minnesota Republicans would like to see as their nominee.
PPP (1/22, no trendlines):
Michele Bachmann 45
John Kline 19
Chip Cravaack 13
Erik Paulsen 11
Laura Brod 4
Rich Stanek 2
Someone else/Not sure 6
(MoE: ±5.9%)
Thanks for your feedback. If we like what you have to say, it may appear in a future post of reader reactions.