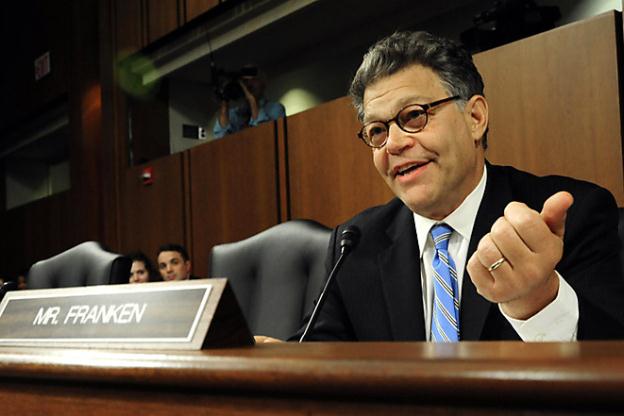 Al Franken is also the subject of a poll
Yesterday I wrote about the numbers that concern Minnesota Governor Mark Dayton in a hot new poll. Today, the day after yesterday, I write about the numbers concerning United States Senator from Minnesota, Al Franken. Numbers from the same hot new poll, only a it's now a little less new and a little less hot.
Those numbers:
Mason-Dixon (2/16, 6/15 in parenthesis):
Do you approve or disapprove of Al Franken's job performance as Minnesota's U.S. senator?

Approve 55 (55)
Disapprove 34 (29)
Undecided 11 (16)
(MoE: ±3.5%)
The trend line is ancient, but the approval number is stable. The disapproval number though, that ticked up five points.
If one were to just look at the top lines, it appears as though five percent of respondents went from being undecided to disapproving of Al Franken. But that's not really what happened, as can be seen by a perusal of the cross-tabs
| | | | | |
| --- | --- | --- | --- | --- |
| Party ID | Approve | Disapprove | Undecided | Change |
| DFLers | 97 (91) | 1 (3) | 2 (6) | +4 |
| GOPers | 15 (15) | 71 (64) | 14 (21) | -7 |
| Indies | 38 (56) | 42 (26) | 20 (18) | -34 |
| None | 56 (33) | 23 (22) | 21 (45) | +22 |
Al Franken's already high approval among DFLers ticked up six points. While his surprisingly low disapproval among Republicans went up seven points.
What stands out in this table though is that he went from a +30 approval-disapproval spread with independents to -4. Mark Dayton had no similar collapse of support among independents in his portion of the poll, going from +13 in June of 2013 to +16 now. So while Governor Dayton was adding 3 net points to his approval spread among independents, Al Franken was losing 34 points.
The party ID numbers are a sub-sample of a sample, so the margin of error is much greater and as such they should be treated with more grains of salt than the top line numbers, but 34 points is 34 points. It doesn't mean nothing. The problem Franken faces is that according to this poll he's maxed out his support among Democrats, and he hasn't maxed out his potential lack of approval among Republicans. So he can't continue to hemorrhage support from independents.
Even with that, Franken's overall approval rating is still 55% and he's at a +21 approval-disapproval spread, an enviable position to be in for any non-Klobucharian incumbent seeking re-election. But for an incumbent who won his last election by only a few hundred votes, it's a veritable landslide.
Thanks for your feedback. If we like what you have to say, it may appear in a future post of reader reactions.