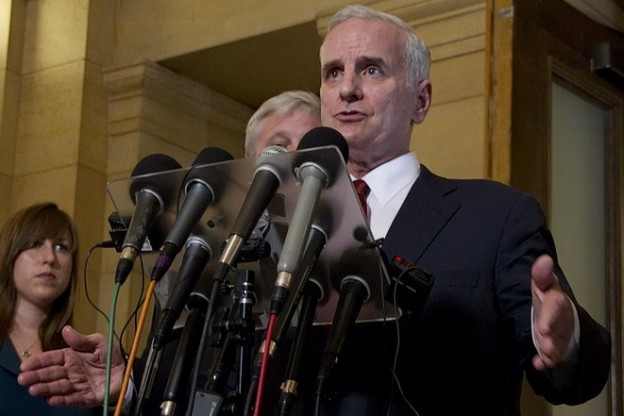 New SUSA poll shows Dayton treading water
A new SurveyUSA poll of Minnesota was released last night, officially ending the long dark political summer.
SurveyUSA (9/6, 4/20 in parenthesis, 2/3 in brackets):
Do you approve or disapprove of the job Mark Dayton is doing as Governor?
Approve 47 (49) [50]
Disapprove 36 (39) [35]
Not sure 16 (13) [15]
(MoE: ±4.5%)
While there does appear to have been some amount of erosion in Governor Mark Dayton's approval ratings over the course of the year, it's been just three points. Three points may be erosion or it may be random sampling variation. If you look at the rolling average graph of polling, you can see that Mark Dayton's approvals took a hit during the session and then recovered almost back to previous levels after it.
To see what's going on, let's look at Governor Dayton's approval spread by respondents political affiliation.
| Date | DFL | GOP | Indy |
| --- | --- | --- | --- |
| 9/5 | +50 | -40 | +11 |
| 4/20 | +60 | -43 | -9 |
| 2/3 | +70 | -27 | -3 |
Support for Governor Dayton among self-described Democrats has been eroding since the beginning of the year. In their February poll, SurveyUSA found Governor Dayton with a +70 approval minus disapproval score, in this recent poll that was all the way down to +50. A loss of 20 points. Since the April poll though, the Governor has gained 20 points among independents, essentially offsetting his erosion among Democrats.
And while no politician likes to see his or her approval numbers slowly sinking, there is certainly a silver lining in these numbers for Mark Dayton in that he is gaining among the most crucial element of the electorate, independents.
It's highly doubtful that come next November only 67% of Democrats who go to the polls will vote for Governor Dayton. Democrats may not all approve of the job he's doing, but they will almost certainly vote for him for Governor next November regardless of that. This is because they will almost certainly approve less of the Republican candidates governing philosophy then they do of Dayton's governing.
Right now Democrats are evaluating Mark Dayton on his job performance in the context of the just concluded legislative session. Come next November Democrats will be evaluating Governor Dayton based on how he compares to whomever the Republicans nominate to face off against him. For the vast majority of Democrats, much higher then 67%, this change in context will be all they need to fill in the bubble next to Mark Dayton's name.
The fact that Democrats appear to be souring on the Governor isn't that big of a red flag, while growth in support among indies is a big deal as that will likely be the key to Mark Dayton's re-election.
But this erosion among Democrats is a red flag, even if it's not a big one. After all, you still need those Democrats to actually show up to the polls and vote. If they don't like either of their choices, there's a chance they just throw up their hands and stay home.
Thanks for your feedback. If we like what you have to say, it may appear in a future post of reader reactions.