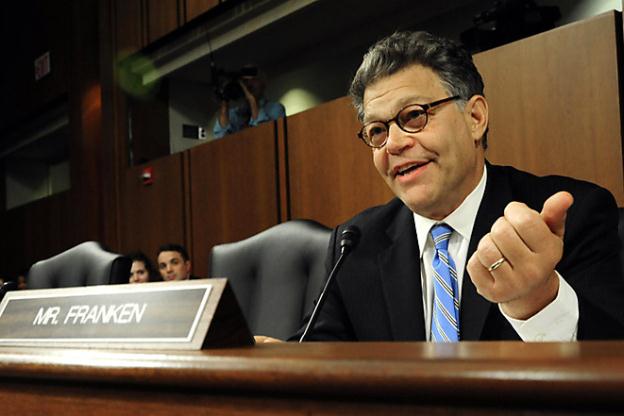 Al Franken leads all comers
I posted yesterday about a new SurveyUSA poll concerning the election for Governor of Minnesota happening this fall. This post today concerns the portion of that poll that deals with the election for United States Senate happening in Minnesota this fall.
Like the Gubernatorial portion of the poll, the Senate portion matches up the incumbent DFLer, Al Franken, against all of the announced GOP candidates.
SurveyUSA (3/2, no trend lines):
Al Franken (D-inc) 50
Mike McFadden (R) 40
Undecided 11

Al Franken (D-inc) 49
Julianne Ortman (R) 41
Undecided 10

Al Franken (D-inc) 49
Chris Dahlberg (R) 41
Undecided 10

Al Franken (D-inc) 49
Jim Abler (R) 37
Undecided 14

Al Franken (D-inc) 50
Harold Shudlick (R) 36
Undecided 14

Al Franken (D-inc) 50
Monti Moreno (R) 36
Undecided 15
(MoE: ±4.3%)
Al Franken has leads ranging from 8 points to 14 points. His smallest leads, those of the eight point variety, come against Julianne Ortman and Chris Dahlberg, while his largest leads, those of the 14 point variety, come against gadflies Harold Shudlick and Monti Moreno. Against most likely GOP candidate Mike McFadden, Al Franken has a ten point lead.
This is a good position to be in eight months prior to the election. It's not as good a position as Mark Dayton is in, but it's a good position nonetheless. A difference between Mark Dayton's numbers and Al Franken's, are the levels of support they and they're opponents get among partisans. Observe:
| | | |
| --- | --- | --- |
| Candidate | DFL support range | Opponents GOP support range |
| Mark Dayton | 90%-85% | 70%-62% |
| Al Franken | 81%-79% | 77%-75% |
Dayton's support among DFLers is higher then Franken's is, and Dayton's opponents support is lower then Franken's opponents support is. All of this explains why Al Franken's leads over his prospective are smaller than Mark Dayton's leads.
The curious thing about this dichotomy is that it's the exact opposite situation that was at play in the recent Minnesota poll conducted by Mason-Dixon. In that poll, which was of approval ratings and not head-to-heads, Al Franken had almost maxed out his approval among Democrats, while Mark Dayton still had room to grow.
When there is a disagreement like this between polls, the way to resolve it is to wait for more polls. Public Policy Polling hasn't unleashed their polling robots on the state in awhile, so maybe they will swoop in shortly to settle this little disagreement.
Thanks for your feedback. If we like what you have to say, it may appear in a future post of reader reactions.