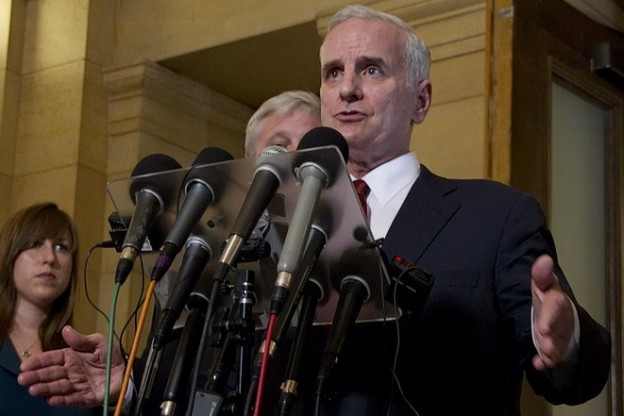 Mark Dayton is in the pole position
A couple of weeks ago now the StarTribune released the results of their Minnesota poll. That poll showed Governor Mark Dayton with his highest approval ratings (58 approve, 29 disapprove) since he became Governor back in 2011. There is now confirmation that Mark Dayton is in an excellent position for re-election with the release, by KSTP, of a poll conducted by their preferred pollster, SurveyUSA.
SurveyUSA (3/2, no trend lines):
Mark Dayton (D-inc) 51
Marty Seifert (R) 34
Undecided 15

Mark Dayton (D-inc) 53
Scott Honour (R) 33
Undecided 14

Mark Dayton (D-inc) 53
Dave Thompson (R) 32
Undecided 15

Mark Dayton (D-inc) 52
Jeff Johnson (R) 34
Undecided 14

Mark Dayton (D-inc) 52
Kurt Zellers (R) 31
Undecided 16

Mark Dayton (D-inc) 52
Rob Farnsworth (R) 31
Undecided 17
(MoE: ±4.3%)
Mark Dayton's leads range from 17 points to 21 points, and he's over 50% against everyone. The last time a pollster asked head-to-head questions was Public Policy Polling all the way back in October and they found Mark Dayton with leads ranging from 10 points to 12 points.
It's never a good idea to use the results of a different pollster for trend lines, but if you were to do such a thing you would see that in comparison to that PPP poll Mark Dayton scores a few points higher while all of his opponents score a few points lower.
As these numbers imply, none of the GOP candidates for Governor are all that well known, as they all clock in between 31% and 34%. That will change when there is a nominee and that nominee becomes more familiar to Minnesotans.
But when the incumbent is starting from above the 50% mark, that means not only does the eventual nominee have to increase their own name recognition, but they also must bring the incumbent down some.
Thanks for your feedback. If we like what you have to say, it may appear in a future post of reader reactions.