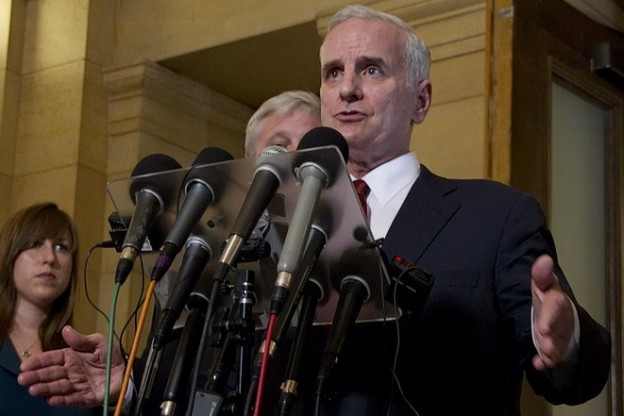 Mark Dayton slides
On Wednesday I titled my post about the Senate portion of PPP's Minnesota poll "Al Franken holds steady" because Al Franken's polling numbers haven't changed in a long time.
This post is titled differently, if you haven't already noticed, and the difference in the titles implies that Mark Dayton has not been fairing as well as Al Franken over the last four months.
Observe:
PPP (5/23, 1/23 in parenthesis):
Do you approve or disapprove of Governor Mark Dayton's job performance?
Approve 49 (53)
Disapprove 47 (39)
Not sure 4 (8)
(MoE: ±3.7%)
Mark Dayton actually went from better overall numbers than Al Franken in January (+14 to +11), to almost even approvals now. What a difference a legislative session can make!
Despite the hit his job approval numbers have taken though, Dayton is still polling over 50% against every GOPer that PPP put him up against.
PPP (5/23, 1/23 in parenthesis):
Mark Dayton (D-inc) 52 (53)
Jeff Johnson (R) 34 (29)
Undecided 14 (18)

Mark Dayton (D-inc) 53 (52)
Kurt Zellers (R) 35 (29)
Undecided 13 (19)

Mark Dayton (D-inc) 51 (52)
Julie Rosen (R) 34 (27)
Undecided 13 (21)

Mark Dayton (D-inc) 51
Kurt Daudt (R) 39
Undecided 10

Mark Dayton (D-inc) 52
Tom Emmer (R) 39
Undecided 9

Mark Dayton (D-inc) 51
David Hann (R) 36
Undecided 13

Mark Dayton (D-inc) 52
Scott Honour (R) 34
Undecided 15

Mark Dayton (D-inc) 51
Dave Thompson (R) 35
Undecided 13
(MoE: ±3.7%)
If you look at the head-to-heads that were also tested in January, you can see the Republican candidates are all up by 5 points or more. But this gain is not at the expense of Mark Dayton's topline number, which holds steady at just over 50%.
Looking at the cross-tabs, this seems to be a function of Republican respondents coming off the fence in favor of the Republican candidate, which is not surprising. Here's a breakdown of the undecided vote in the three head-to-heads that were tested both in January and now (DFLers/GOPers/Indies):
| | | |
| --- | --- | --- |
| Match-up | January | May |
| Dayton/Johnson | 6/20/31 | 3/16/24 |
| Dayton/Zellers | 6/21/32 | 3/13/23 |
| Dayton/Rosen | 7/26/33 | 4/17/25 |
| Average | 6/22/32 | 3/15/24 |
| | change | -3/-7/-8 |
The majority of Democrats have already made up their minds, consequently their numbers didn't move much. Undecided Republicans in these match-ups though decreased by eight points. This explains why Dayton's toplines didn't change while his opponents gained ground.
This is a really good glass half empty, glass half full poll. I say that because if you are trying to make the case that everything is going good for Mark Dayton you can simply point to the horse-race questions and see that he's doing just fine.
If however, you were trying to make the case that Mark Dayton is in big trouble in the 2014 election, you can point to his precipitous drop in job approval over that past four months and see that he's in big trouble.
The reality is probably somewhere in the middle. Clearly, a decline in job approvals like Dayton has seen is not a good thing. At the same time, consistently hitting 50%+ in head to heads, even against relative unknown's, indicates some durability.
I'll be interested to see where his job approvals settle in after the summer is over and the legislative session is more firmly in the rear-view mirror.
Thanks for your feedback. If we like what you have to say, it may appear in a future post of reader reactions.