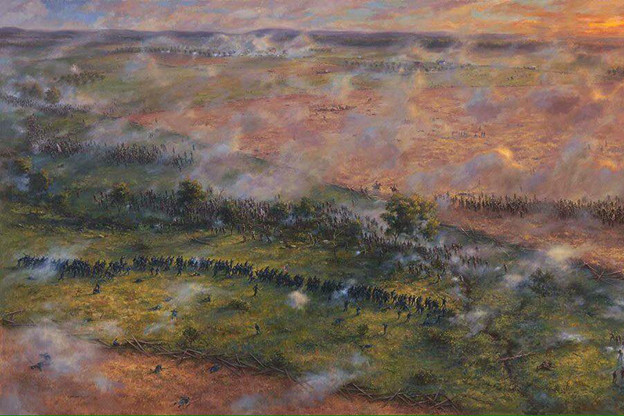 Getting ready for the 4th of July, 1863
After defeating the "Federals" at the Battle of Chancellorsville, and perhaps feeling its oats, Lee's Army of Northern Virginia wanted to take the war to the north. Lee hoped to threaten northern cities — Philadelphia, Baltimore, Washington, D.C. — win the overt support of Britain and France, and perhaps force a truce.
Lee's army was turned back at the Battle of Gettysburg, fought on the first three days of July 1863. On the middle day of the battle, 152 years ago today, the First Minnesota Regiment of Volunteers, vastly outnumbered, plugged a hole in the Union line and held until reinforcements could arrive and keep the line from being split. The First Minnesota suffered 82% casualties that day.
I wrote about this engagement a few days ago.
David Geister's moving oil painting of the scene at dusk that day was completed in 2013. David is an author, artist, and historian who has worked on many projects for Fort Snelling and the Minnesota Historical Society. I know David through my son, Andy, who worked at Historic Fort Snelling for many years, and also through Eric Ferguson, who worked at the fort, too, and as most of you know, writes at Minnesota Progressive Project.
The painting will probably be on display during Civil War weekend at Historic Fort Snelling in August.
Thanks for your feedback. If we like what you have to say, it may appear in a future post of reader reactions.