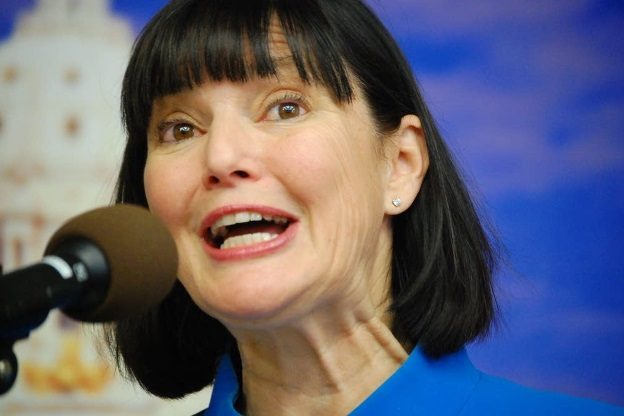 Third district shock poll
I was greeted this morning by what at first seemed like good news:
POLL: via the Bonoff for Congress campaign, an internal poll that shows state Sen. Terri Bonoff tied with Rep. Erik Paulsen 45-45, and Clinton with a huge advantage over Trump in CD3.  Like many internal polls, this one is framed in a manner to help Bonoff fundraise and build momentum.  However, if the gap for Clinton-Trump is any where close to the 24 points that the poll suggests, it's no wonder this is a race to watch nationally.  MEMO:http://bit.ly/29TaY5v
If you click on the link at the bottom of the note, you will be taken to a polling memo from Victoria Research uploaded to scribd that has the following bolded text in it's first three bullet points:
Bonoff means Business… 

race is tied, 45% to 45%

in a generic congressional matchup, we found an 

unprecedented 9‐point Democratic advantage, 42% Democrat to only 34% Republican.

Trump garners an abysmal 28% of the vote against Hillary Clinton
Yes, this is an internal poll from the Terri Bonoff campaign, but it's a poll that purports to show her tied with Erik Paulsen, shows a generic Dem beating a generic GOPer by eight points and shows Hillary beating Trump by 24(!) points.
This has got to be good news for third district DFLers right?
Well, no. In fact, this poll is rather terrifying for anyone with hopes of ever unseating Paulsen.
I wrote above that the poll "purports to show her tied with Erik Paulsen." I phrased it that way because despite what the polling memo might be trying to sell, the poll doesn't appear to actually show Paulsen and Bonoff tied. If you look at the entirety of the first sentence of the first bullet point, and not just the bolded part, it says "The race is tied, 45% to 45%, after only one positive paragraph description of each candidate."
In other words the race is not tied 45-45.
The second part of that sentence is the key, the part about positive descriptions of the candidates. This is what is known as an informed ballot question, you first ask the respondent their candidate preference, then you read some stuff, in this case a positive paragraph about each candidate, and then you ask their preference again. These kinds of questions are used all the time in internal polls because they can be helpful in crafting a campaign strategy.
For trying to evaluate the actual state of the race though, they are useless. For that you want the numbers from the first time they ask the respondent their candidate preference. Those numbers are not discussed in the polling memo.
That the polling memo contains the informed ballot numbers and not the actual top lines is not good news if you are cheering for Paulsen to be defeated in Novemeber. What this likely means is that Paulsen is over 50% in the actual top lines. Over 50% in a poll that shows Hillary ahead 52-28. Even if that's not the case though, Paulsen being tied on the informed ballot response in a Bonoff poll that also has Hillary with such a dominating lead is thoroughly discouraging.
To be clear it was always going to be difficult to beat Erik Paulsen, while the third district has been evenly divided at the presidential level in recent cycles, DFL congressional candidate's haven't taken more then 42% of the vote. Terri Bonoff, unlike all the other challengers Paulsen has faced as an incumbent, has been able to raise enough money so far to actually compete with him. And with Donald Trump at the top of the ticket, this seemed like the year he could actually lose.
But now I am doubtful. I'm not really sure why they even released this polling memo, but they did and it's not good news.
At least the second district looks like a probable DFL pickup.
Thanks for your feedback. If we like what you have to say, it may appear in a future post of reader reactions.