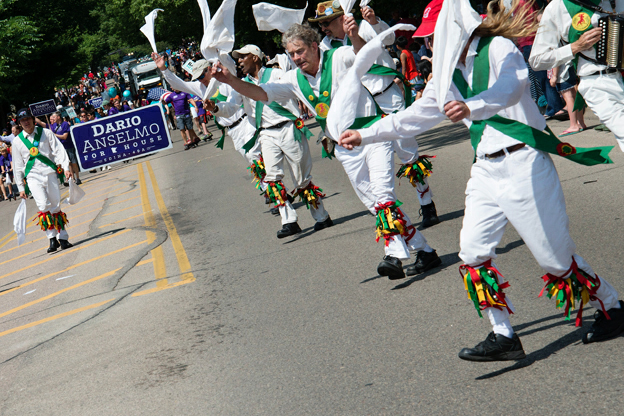 Did you ever have to make up your mind?
For well over a decade, the Edina public school system has championed diversity and equity as goals in education in the district (under the guidance of, among others, Jackie Roehl, Edina's only Education Minnesota teacher of the year). I think this is not only a moral choice, but a practical one as well, as Edina becomes an increasingly-diverse district. (And as a coda to that, a much more interesting place to live.)
But last fall, Edina's premiere anti-public school harridan, Katherine Kersten, wrote a piece for the Center of the American Experiment – financed by people we don't know, but who are probably from nowhere near Edina – and suddenly it is an issue in the school board election. And every yob in Edina – or Bloomington – is on board.
Now, even a Minnesota senator – from where? – Carla Nelson joins the act. (As an aside, Sen. Nelson was a big supporter of the photo ID for voters constitutional amendment in 2012 which went down about 54-46 in Edina, so we know she really has her finger on the pulse of voters here.) Nelson offered a bill to provide "academic balance" in public schools. In recent days, Rep. Sonda Erickson offered a "companion" bill in the House. Nelson's bill passed out of the senate education policy committee; I don't think the House bill has had a hearing yet. (It probably didn't meet a committee hearing deadline; we'll see whether that makes any difference.)
It is obvious almost beyond argument that the Nelson and Erickson bills are aimed at the Edina public schools, as well as any other schools that have the temerity to talk about these issues. To Katherine Kersten, Carla Nelson, Sondra Erickson, and well, Owen Michaelson, a new member of the Edina school board, too, it surely seems that teaching kids that they should treat each other with respect without regard to race, religion, or ethnicity is completely beyond the pale. It would be a shame if the kids grew up less bigoted than they are.
The bills include a requirement that school boards adopt a policy to punish teachers and staff for preaching "ideology." What is that? Well, who knows? And that's a big part of the point. Who really enforces the policy: the school board, the yobs, or maybe Erick Kaardal? (Google him, people; I'm not going to do it.) The potential for chilling free speech is obvious. In the 1969 case of Tinker v. Des Moines School District, the Supreme Court held that students didn't forfeit their 1st Amendment rights when the passed through the schoolhouse door.
But Kersten, Nelson, Erickson, and Michaelson apparently think that faculty members do.
Which brings us around to the freshman representative Dario Anselmo from the A side of District 49. Most of you will recall that he ran on what a moderate he was, socially mild, in the vein of Ron Erhardt before Ron went over to the dark side. (I personally heard him say that, except for the dark side part, but that's what he meant.) I am sure that Rep. Anselmo would love to keep his head down on this whole business.
But I am not going to let him.
I sent a note to Rep. Anselmo asking him for a conversation about this. I did tell him that as the representative for most of the school district's real estate, that one of his jobs was to defend it. The CAE and its outside money are being very strategic here, and they picked a district where they think they can drive a wedge, especially with the CAE's baloney "education is suffering" rhetoric.
Rep. Anselmo's continuing silence would be the tacit adoption of the strategy. There is great potential for damage to the school system here, but it's from the CAE and the Republicans in the legislature. I doubt that the "social moderates" that Anselmo claims are his peeps care for the brownshirt tactics.
The public school district is the most sacred institution in Edina. Far more than city government itself. And woe be unto any politician who messes with it or stands silent while outsiders try to.
So, Dario, as those great philosopher kings, The Lovin' Spoonful, might say, sometimes you have to make up your mind.
N.B. Owen Michaelson was originally referred to as Alan Michaelson. I regret the error.
Update: Rep. Dario Anselmo is not on the House bill's first stop, the education policy committee, but he is on the education finance committee. I recommend to all my Edina peeps that they contact Rep Anselmo and tell him to get up on his hind legs in the committee and elsewhere and oppose this clunker. Here's how to get in touch with him: rep.dario.anselmo@house.mn. (That's not a link, so you'll have to copy or type it into your email client.) His House phone number is 651.296.4363.
Thanks for your feedback. If we like what you have to say, it may appear in a future post of reader reactions.