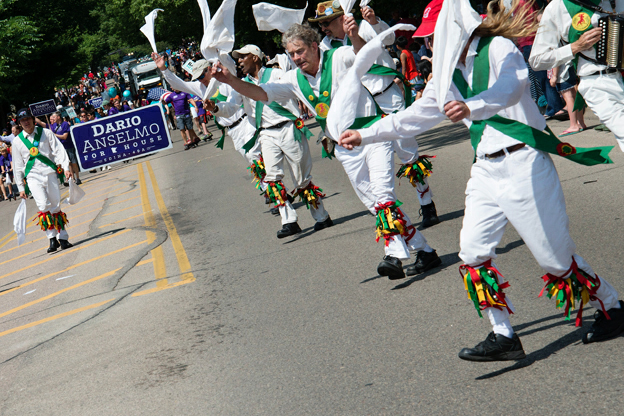 Waiting for Dario, question 4
You can read the earlier posts in this series, including the initial background post, here. So without further ado, here's question number four that I posed to candidate Dario Anselmo:
Would you have voted for the comprehensive anti-bullying bill passed this session [2014]? If not, why not?
This is hardly a hypothetical question, my friends. Because even now, as you read this, people like Michele Bachmann, and undoubtedly that chucklehead Steve Drazkowski, are plotting the overthrow of the anti-bullying bill, the Safe Schools for All Act.
Bachmann is throwing a tony fundraiser at the Minneapolis Club — hey, that's Tony Sutton's old hangout! — in September called The Raging War on Kids: Launching the Resistance. Really, it's sponsored by the Child Protection League, a group that proves that conservatives aren't entirely dead to irony. These are the poster parents for why a state-wide anti-bullying bill is so necessary.
Just in case a trip down memory lane is necessary, the CPL was formed from the parents who fought an anti-bullying policy in the Anoka-Hennepin School District; they fought it tooth and nail right up to the federal consent order against the district. They, like Gruesome Glenn Gruenhagen, from Glencoe, and Roger Chamberlain, too, think it is a matter of religious freedom for their kids to be able to tell other kids in the lunch line that they are going to hell.
Because that is what Jesus would want, of course.
So now, imagine freshman House member Dario Anselmo — freshman Republican House member Dario Anselmo — is confronted with a vote to repeal the Safe Schools for All Act. How does he vote?
Congratulations to @barbsutter49B and @Anselmo4House – the GOP endorsed team in @SD49MNGOP! #GOPMajoritypic.twitter.com/0YnyOPLQRt

— Kurt Daudt (@kdaudt) March 15, 2014
Well, never mind. (Kurt Daudt is the leader of the House Republicans.)
But this something that the two-thirds of HD49A who vote against the gay marriage ban amendment ought to think about. Candidate Anselmo has had over two months to tell me — and you, too, friends — that he was foursquare in favor of the Safe School for All Act. But mums the word.
And just for the record, friends, Ron Erhardt supported the Safe Schools for All Act, and his SD49 Senate sidekick, Melisa Franzen, was a chief sponsor of the bill.
Update: Here's an August 2014 article from Andy Birkey about how this issue is hardly dead in Minnesota. The Parents Action League in the Anoka Hennepin district would still cheerfully roast gay kids on a spit. Of all the questions that I have asked Dario Anselmo about, his silence on this one is the most disgusting.
Thanks for your feedback. If we like what you have to say, it may appear in a future post of reader reactions.