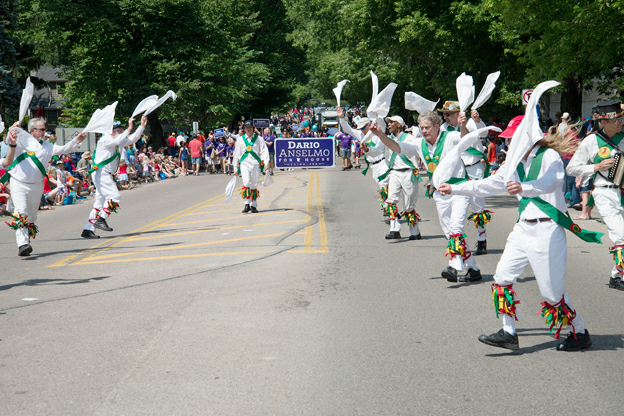 Waiting for Dario, question 8
This is the first installment in the series of my list of questions that Prince Dario the Silent has chosen not to acknowledge, much less answer. The reasons for putting a series of questions to Republican candidate for Minnesota House District 49A Dario Anselmo — and a brief recap of the recent history of the representative seat for Edina to boot — can be read at the link. It is actually a rather admirable account of a guy who doesn't give up, Rep. Ron Erhardt.
I am not going to take the questions in any particular order, but here's one for somebody who touts his small business owner cred:
[A] local question – one that one of your campaign co-chairs has stuck his nose into – would you favor the creation of a special assessment district that included businesses on both sides of France Avenue to finance the construction and maintenance of parking ramps used by patrons of businesses on both sides of that street?
Recall that Cam Winton, Minneapolis resident and candidate for mayor there last fall, is one of Anselmo's campaign co-chairs. Here's a bit of a reprise from an earlier story about Winton and Edina's city manager, Scott Neal:
Last January, Edina's city manager, Scott Neal, remarked on his blog that it was a bit unfair that 50th and France parking ramps — all on the west side, the Edina side, of France Avenue — were paid for exclusively by special assessments to Edina businesses, even though businesses on the east side of France were also beneficiaries of the ramps, in that patrons of businesses on that (Minneapolis) side can also use the ramps for free.
Neal suggested out of fairness that perhaps some kind of taxation district be established so that the Minneapolis siders would also contribute to the construction and maintenance of the ramps that obviously benefit them. Since it isn't long (well, it is a little long, but I don't feel up to summarizing it), I will repeat the entire post of Neal's:
"Many people in the Twin Cities are surprised to learn that the 50th & France business district is not entirely within Edina.  The corporate border between Edina and Minneapolis runs right down the middle of France Avenue in that part of town.  The west side of France is in Edina.  The east side is in Minneapolis.
"Normally, we don't make a big distinction about that.  But, the fact that the business district is not wholly within one city can get annoying at times. Yesterday's Star Tribune story entitled "Minneapolis seeks more people, no more cars" caused some annoyance, at least for me and a couple of members of my City Council.
"Here's some back story.  Not long ago, a once thriving Blockbuster video store on 50th Street just east of France Ave (in Minneapolis) closed up shop.  The store sat vacant for a while until a new bar/restaurant called the Red Cow moved in.  The Red Cow has been a success, which has created significant conflicts over the demand for parking spaces in the neighborhood.
"Neighbors eventually brought a court action, which was rebuffed by the courts, in part because "… the city noted that non-permit parking is available merely a block away, along with hundreds of spaces in a public ramp just over two blocks away."
"Yes, part of the City of Minneapolis' position on this issue in court was that there are hundreds of spaces in a public ramp just two blocks away – in Edina.  This is annoying to me because we are currently talking about doing over $5 million worth of improvements to those municipal parking ramps, which will be paid for solely by assessments to the property owners at 50th & France, but only on the Edina side of France Avenue.  We don't have the legal authority to assess these costs to property owners on the Minneapolis side of France Avenue, even though those property owners benefit from our municipal parking ramps, too.
"It's nice that the City of Minneapolis acknowledges the benefit of Edina-provided free public parking in the 50th & France parking ramps. It would be even nicer for them to work together with the City of Edina to create a new Special Services District that would allow Edina to be able to spread the cost of building and maintaining those municipal parking ramps over the properties that actually benefit from them – on both sides of France Avenue."
But to campaign co-chair Cam Winton on Twitter, this is just too darn bad, Edina merchants:
.@StribRoper Since my MPLS taxes pay for the parks and stadia he uses, I think we can call it even.

— Cam Winton (@cam_winton) January 23, 2014
The "he" that Winton is referring to is Edina's city manager, Scott Neal. MinnPost journalist David Brauer replied, Not exactly right, grasshopper:
.@cam_winton@StribRoper@Jontevlin thought of parks rejoinder too but remembered Edina a net payer into LGA so they do pay for Mpls parks.

— David Brauer (@dbrauer) January 23, 2014
"LGA" is local government aid. So it isn't quite accurate to say that residents in Edina pay nothing for amenities in Minneapolis, including parks and stadia. While we're being picky, Hennepin County residents pay a sales tax to  support Target Field, and many suburban residents pay real estate taxes in Minneapolis as tenants downtown under triple-net leases. Believe me, I know this.
There are metro-wide and state-wide taxes that pay for transportation infrastructure that took patrons downtown to Dario's Diner, too.
So, Mr. Anselmo, do you agree with Cam Winton, a chair of your campaign, that the businesses on the east side of France should be able to freeload parking from the Edina merchants who pay for it?
If you don't, why did you appoint Cam Winton to an important position on your campaign?
If you do, what have you got against Edina merchants?
Update: An in a bid to remain relevant, campaign chair Cam Winton says, I am, too, notable.
Thanks for your feedback. If we like what you have to say, it may appear in a future post of reader reactions.