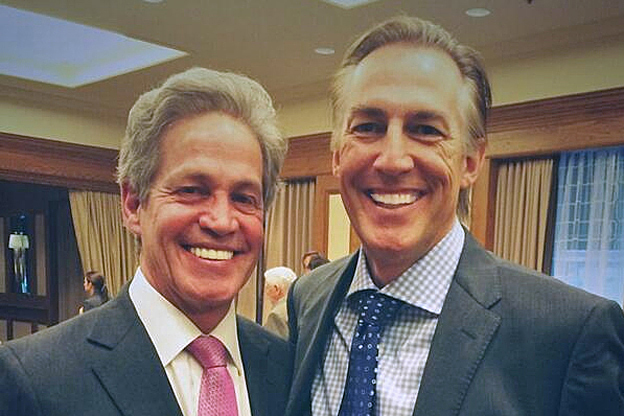 Who is Dario Anselmo?
See the correction at the foot of the story.
Well first of all, he's apparently a pal of the Dark Sith Lord named Money.
He's also a garden-variety Republican who wants better municipal services, but doesn't want to pay for them. He used to own the Fine Line Music Cafe; here's a little from the bio on his campaign website:
Sensing a need for better representation in government, Dario co-founded the Warehouse District Business Association in Minneapolis and served on the board of the Minneapolis Downtown Council for 12 years (from 2000 to 2012). Through those efforts he encouraged government to provide better public safety, lower taxes, and more growth opportunities.
They also had a fire at the Fine Line, and nobody died!
Hot, meet air.
He also thinks that the HD49A seat is his property, and he wants it back. It's his mantra.
Great meet & greet with delegates tonight! Thank you to the Laukka's for hosting. Can't wait to take back 49A #mnleg pic.twitter.com/HGODLufqJ2

— Dario Anselmo (@Anselmo4House) March 13, 2014
Which is funny, of course, because he's never sat there. Just in case you really had any question, Dario, the seat is owned by the residents of HD49A, not any political party.
But if we're going to do any ownership comparison, and possession is nine-tenths of the law, the seat belongs to Ron Erhardt, who has twenty years of service as the representative from Edina. So, please don't embarrass yourself by implying it's yours. It just makes you look like a grasping scrub, Dario.
In general, Anselmo subscribes to the Mike McFadden platitude school of campaigning. Just check out his issues on his campaign website. When you enter a political race on a lark and without serious policy prescriptions, that's what you do. Just ask Mike.
Oh, wait! He's foresquare against Asian (excuse me, invasive) carp! (You have to be a Facebook member to follow the link.) That, of course, has been a concern of Ron Erhardt's for years, and hardly a reason to turn the seat over.
Erhardt is a board member of MN Lakes and Rivers. One of MLR's bedrock concerns is aquatic invasive species.  MLR has worked with the Legislature on the issue for years.
One of the people who Dario was undoubtedly able to "encourage" over the years is Cam Winton, a Minneapolis political gadfly, and a former Minneapolis council member who finished just ahead of Charlie Stenvig's ghost in the race for mayor in Minneapolis last year.
Cam is Dario's campaign manager. Success begets success! That's what they say, anyway.
In addition to being a seriously unsuccessful candidate for mayor in Minneapolis, and other than the fact that he's an ignorant outsider, what does Cam have to commend himself as a campaign manager? Maybe he needs the money.
Well, kidding, of course! But you are known by the company you keep.
Last January, Edina's city manager, Scott Neal, remarked on his blog that it was a bit unfair that 50th and France parking ramps — all on the west side, the Edina side, of France Avenue — were paid for exclusively by special assessments to Edina businesses, even though businesses on the east side of France were also beneficiaries of the ramps, in that patrons of businesses on that (Minneapolis) side can also use the ramps for free.
Neal suggested out of fairness that perhaps some kind of taxation district be established so that the Minneapolis siders would also contribute to the construction and maintenance of the ramps that obviously benefit them. Since it isn't long (well, it is a little long, but I don't feel up to summarizing it), I will repeat the entire post of Neal's:
Many people in the Twin Cities are surprised to learn that the 50th & France business district is not entirely within Edina.  The corporate border between Edina and Minneapolis runs right down the middle of France Avenue in that part of town.  The west side of France is in Edina.  The east side is in Minneapolis.
Normally, we don't make a big distinction about that.  But, the fact that the business district is not wholly within one city can get annoying at times. Yesterday's Star Tribune story entitled "Minneapolis seeks more people, no more cars" caused some annoyance, at least for me and a couple of members of my City Council.
Here's some back story.  Not long ago, a once thriving Blockbuster video store on 50th Street just east of France Ave (in Minneapolis) closed up shop.  The store sat vacant for a while until a new bar/restaurant called the Red Cow moved in.  The Red Cow has been a success, which has created significant conflicts over the demand for parking spaces in the neighborhood.
Neighbors eventually brought a court action, which was rebuffed by the courts, in part because "… the city noted that non-permit parking is available merely a block away, along with hundreds of spaces in a public ramp just over two blocks away."
Yes, part of the City of Minneapolis' position on this issue in court was that there are hundreds of spaces in a public ramp just two blocks away – in Edina.  This is annoying to me because we are currently talking about doing over $5 million worth of improvements to those municipal parking ramps, which will be paid for solely by assessments to the property owners at 50th & France, but only on the Edina side of France Avenue.  We don't have the legal authority to assess these costs to property owners on the Minneapolis side of France Avenue, even though those property owners benefit from our municipal parking ramps, too.
It's nice that the City of Minneapolis acknowledges the benefit of Edina-provided free public parking in the 50th & France parking ramps. It would be even nicer for them to work together with the City of Edina to create a new Special Services District that would allow Edina to be able to spread the cost of building and maintaining those municipal parking ramps over the properties that actually benefit from them – on both sides of France Avenue.
But it isn't a problem as far as the blowhard (and now Anselmo campaign blowhard) Cam Winton is concerned.
.@StribRoper Since my MPLS taxes pay for the parks and stadia he uses, I think we can call it even.

— Cam Winton (@cam_winton) January 23, 2014
Of course, Bilious Cam, special assessments on Edina businesses and your general real estate taxes are exactly the same, and likely to be in similar amounts!
Later in the thread of comments to Bilious Cam's tweet, journalist David Brauer did make a point.
.@cam_winton @StribRoper @Jontevlin thought of parks rejoinder too but remembered Edina a net payer into LGA so they do pay for Mpls parks.

— David Brauer (@dbrauer) January 23, 2014
(As the kids say, you should follow the link to the tweet and read the whole thing.)
But why let facts get involved when we're beating up on Edina? That Brauer is such a downer! LGA, by the way, means local government aid, which Edina doesn't get, but Minneapolis does.
I have argued on other occasions that it is entirely proper for this to be the case,  but it is parsimonious of Winton to complain about people who come from outside of Minneapolis, pay to park at places like Lake Harriet or downtown, and patronize vendors in or near the lakes. Or even the "stadia!"
The point of this, my friends, especially my Edina merchant friends, is that Dario Anselmo has chosen as a campaign manager somebody who a) doesn't know what the hell he is talking about, and b) clearly doesn't have your interests in mind.
If you think that freeloading by the merchants on the east side of France is fine, by all means, vote for Anselmo.
If not, Erhardt is your man.
The HD49A Republicans have chosen a candidate who seems in every way as capable  as Uncle Billy. Well done, I say.
Corrections: According to an email from Cam Winton, he is not Anselmo's campaign manager, but he does say that he is "proud" to support him; I've seen Winton's name prominently displayed on campaign literature. He also says he was not a Minneapolis council member, which is contrary to my recollection, but I am sure Winton is right. I regret the errors.
Correction correction: Winton is not the campaign manager, but he is a campaign co-chair, according to Winton and the candidate himself. I knew I had seen Winton's name in a prominent spot on campaign literature.
Thanks for your feedback. If we like what you have to say, it may appear in a future post of reader reactions.