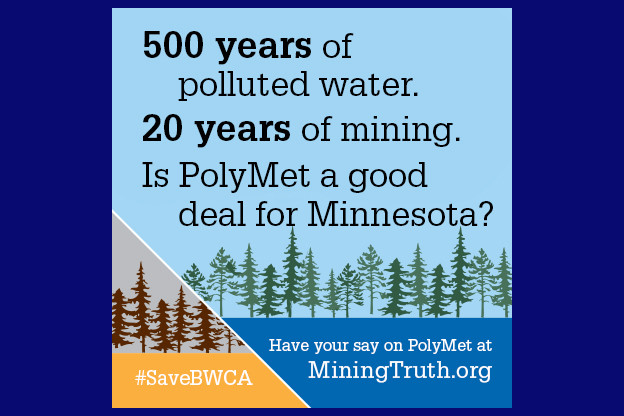 PolyMet: The readily apparent becomes wholly manifest
This is about as unsurprising as anything could be:
(May 8), global mining giant Glencore moves one big step closer to owning the proposed Northern Minnesota copper-nickel venture PolyMet…

Fundamentally, Glencore is a different kind of mining company than the Iron Range has dealt with in recent years. They're enormous and fast-moving, anti-union and hard-bargaining. They're everything a mining company normally is, but much more so.

Their involvement might mean an aggressive push to complete the mine near Hoyt Lakes quickly. Or it could mean Glencore will use this project as leverage on other projects, essentially putting a pin in the map to drive a harder bargain with other copper-nickel sources. Then again, it could also be a long term plan to secure mineral sources in the future, amid changing global supply and demand.

This can only be seen as a blow to ensure union representation at any resulting mine. I expect it might be spun otherwise, but I'm very skeptical. Companies have new, sophisticated ways to discourage unions in the 21st Century. Glencore tends to inherit unions; it rarely entertains them in new ventures.
(Minnesota Brown)
A few summary points, regarding where we're at now with the proposed PolyMet/Glencore sulfides mine:
– I don't think there was ever much chance at a union. More precisely, it's always been unlikely that if it happens this project will do much in the way of a stable, well-paid, well-benefited workforce. On the contrary, most employees will be doing low-wage work that comes and goes depending on world prices for copper and nickel. Which have not been where they would need to be, for this to work. (And don't pay attention to anyone claiming that skyrocketing prices are right around the corner. Believe me, those assertions from industry propagandists, who appear to have a downright preterhuman tolerance for public embarrassment, have been around ever since prices collapsed during the Great Republican Recession.)
– The planned mine is at least twice the size of what has actually been approved.
But not to worry: PolyMet has told Canadian regulators (where it is based) that its plan is to build a mine two to four times larger than the one the DNR just permitted. They have told the Canadian regulators the return on investment for the larger mine is 24 percent, not the 9.6 percent stated in their just granted permit. Problem solved? No. That is not the mine the DNR just permitted. The larger mine PolyMet told the Canadians it was building would require more robust environmental safeguards and a new – or supplemental – permit to mine application. So, which mine is PolyMet building?

So is PolyMet telling the truth to Minnesota regulators or Canadian regulators? The answer is: probably the Canadian regulators.
(MinnPost)
(I strongly recommend that you click and read that whole article, which also gets into other key current elements of the financials.)
– The proposal for long-term tailings storage is fundamentally unsound, to say the very, very least.
Indeed, one might get the idea that this project has been directed by an absolutely corrupt, greed-bloated multinational, for many years now. One just might.
Thanks for your feedback. If we like what you have to say, it may appear in a future post of reader reactions.