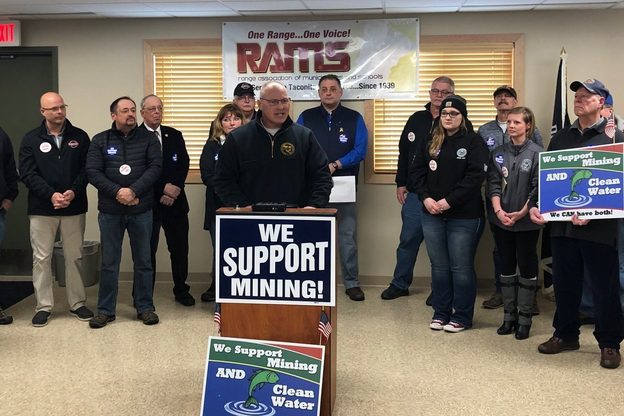 MN-08: Ditching Rep. Stauber, Part 1
I live in MN-08, though so close to its south boundary that if I was literally less than a half-mile south of where I'm sitting at my desk right now I'd be in MN-06. Which would in a way make this easier, because Rep. Tom Emmer (R-MN-06) is, given his obnoxious, arrogant demeanor, and the fact that he's apparently downright proud of being among the most shameless and groveling of Trump acolytes, an easier target, from a progressive perspective, than Rep. Pete Stauber (R-MN-08) is. But not by much.
Every few weeks the phone rings around 7PM, while I'm relaxing with a book, and it's a recording of Stauber, apparently inviting me to be part of a tele-town hall, or some such thing. I don't listen for long enough to be sure. It's an effort at outreach, I suppose, though I suspect that to most people who get them they're just more irritating robocalls.
Anyway, as far as all the reasons MN-08 voters should put a boot on Stauber's political behind, I'll start here:
U.S. Reps. Pete Stauber (R-MN) and Tom Emmer (R-MN) applauded action (in early July) by the Bureau of Land Management (BLM) to begin an environmental impact review of the proposed Twin Metals underground mine and mineral lease project in northeastern Minnesota.

"I am very pleased to hear that Twin Metals will be allowed to move forward with this first significant step in the environmental review process, and I thank the White House, Interior Department, and Agriculture Department for leading the way on this critical issue," Rep. Stauber said.
(Ripon Advance)
And add this:
Did you hear #Trump say yesterday "we have bridges that should have been fixed" ?

DYK that there are 481 bridges in #MN08 which will cost an estimated $266.8 million in need of repair?

DYK that @RepPeteStauber voted NO on #HR2 the Invest in America Act (aka #MovingForward Act)?

— Mac (@McPhersonHall) July 15, 2020
And this:
Each budget year as Secretary of Education #BetsyDeVos has proposed major cuts to her own department — even targeting the #SpecialOlympics

On May 15, #MN01 @RepHagedorn, #MN06 @TomEmmer and #MN08 @PeteStauber voted NO on #HR6800 which would have provided more money for schools. https://t.co/5ytbvRryVh

— Mac (@McPhersonHall) July 13, 2020
It doesn't take long to figure out. Stauber will occasionally vote with some Democrats on something or other, and even make a big deal of co-sponsoring some legislation. It's the old "moderate" playbook, and it's not really moderate, in the sense of being willing to buck the Party of Trump when it might actually make a difference. He's done little to really try to help MN-08.
Comment from Mac Hall: Stauber put out a little hitjob on Betty McCollum (July 10 press release) with this little attack — "It seems many Democrats like McCollum would prefer to see child labor in foreign countries mine the resources that our nation needs, rather than responsibly extracting these minerals with American workers and American jobs."
If you are not sure what he is referring to, you may have missed this piece from the Center of the American Experiment.
While the majority of Congo's cobalt comes from large mining sites where rock is dug up by trucks from the bottom of deep pits, an estimated 30 per cent of Congo's cobalt is dug by hand … where yes, children will show up looking for work.
The Stauber amendment would required the Commerce Secretary to certify that federally funded electric buses and charging stations do not use minerals mined or processed with child labor. Here's the problem, in most mining operations, there is no way of knowing whether the cobalt comes from an industrial or hand mining site since it is all mixed together.
What do you think a mining company would say to the Commerce Secretary ?
a) Yep, none … we sold all the child labor mined product to other customers – prove me wrong.
b) Sorry, we cannot say that, so we will not be selling you any product … thereby encouraging companies to buy cobalt from Australia, Canada, the Philippines or Morocco (but probably not Russia or Cuba).
Do you think that Stauber would be happy if the cobalt used in federal projects came from USMCA partner Canada ? Nah, he really wants it to be mined by PolyMet which reportedly has two of the three largest cobalt deposits in the United States.
While I am skeptical that Stauber's motivations are more pro-mining than ending the use of child labor, don't ya gotta ask why Trump has not pushed China on that (oh, yeah, weren't there stories about Ivanka Trump clothing line made with child labor in China?)
.
Thanks for your feedback. If we like what you have to say, it may appear in a future post of reader reactions.