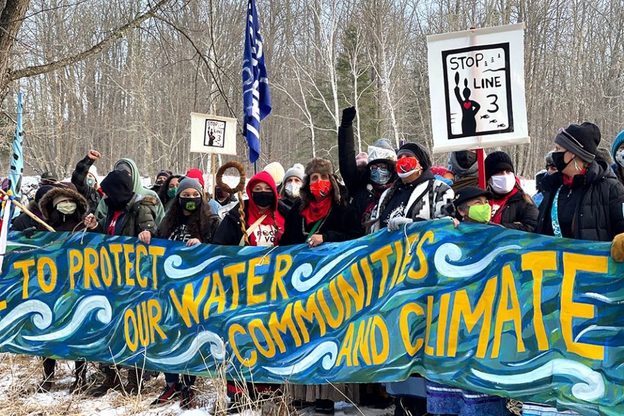 Enbridge is coming on strong, and so is the opposition
From last week:
After a short spring break on mainline construction required by Minnesota regulators, however, Enbridge is now entering a new phase of construction — and a new phase of protests.

As the company restarted construction this week, opponents of the project geared up for a wave of larger demonstrations aimed at slowing or stopping the pipeline. A court decision on a key legal challenge to Line 3 is also expected in June, making the final stretch of construction a pivotal one for the future of Enbridge's new pipeline…

(Enbridge Senior Vice President Mike) Fernandez says the company is aware of the planned events slated to start the week after construction resumes and acknowledges the right for protesters to demonstrate.

"The watchword that we put out among our workers and with others, even as we talk to law enforcement is de-escalate. We do not want to incite anything. Instead, what we want to do is make sure that everybody is healthy and safe," Fernandez said.
(MinnPost)
That's a "good one," considering that Enbridge is continuing to use its disaster-in-waiting Line 5 in direct defiance of a demand from Michigan Governor Gretchen Whitmer. So much for their real level of respect for law and order.
You can check out a righteous opposition website, here.
This is from an article dated yesterday.
Thousands of people from across the nation are traveling to northern Minnesota this weekend to join Indigenous leaders in what organizers described as the "largest resistance yet" to Line 3, an Enbridge-owned tar sands pipeline whose construction has accelerated in recent days as opponents warn the project poses a threat to waterways and the climate.

The Treaty People Gathering kicked off Saturday, the first of several expected days of action against Enbridge's multi-billion-dollar project, which aims to replace and expand the Canadian company's existing pipeline along a route that crosses more than 200 bodies of water and 800 wetlands.

If completed, the pipeline would have the capacity to carry more than 750,000 barrels of tar sands oil per day from Alberta, Canada to Wisconsin.

Indigenous leaders have decried the pipeline expansion as a brazen violation of treaty rights that endangers sacred land. Attempts to block the pipeline in court have yet to succeed, leading Line 3 opponents to turn their focus to large-scale protests and civil disobedience.
(Common Dreams)
It needs to be always borne in mind that we're talking about tar sands sludge, one of the worst enemies of all humanity.
Thanks for your feedback. If we like what you have to say, it may appear in a future post of reader reactions.