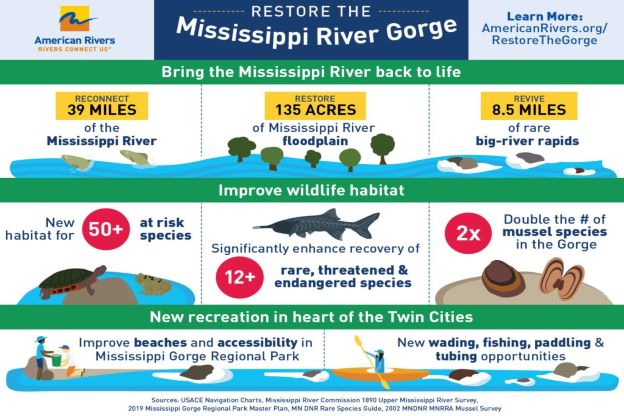 Who would want to short the Corps lock and dams study?
The Army Corps of Engineers asked for two million dollars for a lock and dam study on the Mississippi River in the Minnesota metro. Looks like they'll get a quarter of that. For reference, the U.S. House Appropriations committee recently approved 826.45 billion for military spending next year.
This is from an excellent presentation on the long-term benefits of lock and dam removal. (The image at the top of this is from the same source.)
The dams no longer serve their navigation purpose and hydropower production is significantly below capacity. Yet their ecosystem impacts are far less benign: Habitat in the upper half of the Mississippi River is degrading at a rate of up to 4 percent annually – primarily due to the locks and dams…

The reach of river eligible for restoration lies in the heart of Minneapolis-St. Paul, entirely within the Mississippi Gorge Regional Park, which sees over 2.7 million visits annually…

The Corps will launch a disposition study soon to evaluate the potential benefits of removing the dams and restoring the Mississippi River rapids through Minneapolis-St. Paul. We have a once-in-a-generation opportunity to consider removing the dams and restoring this critical Mississippi River habitat. Now is our moment!
(American Rivers)
There's obviously plenty of money to get going on a real study. Unsurprisingly, I haven't been able to find any sort of specific explanation as to why that's really being all but openly blocked. It couldn't possibly have anything to do with some people, who one way or another have acquired a measure of political power, wanting to stick it to environmentalists, any way they can, now, could it? Along with profiteers who want the status quo protected for their benefit, if nobody else's? Just a thought.
Thanks for your feedback. If we like what you have to say, it may appear in a future post of reader reactions.