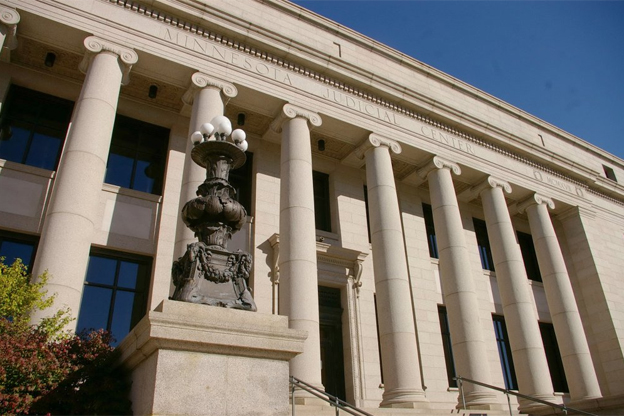 Karl Procaccini is a great choice for the Supreme Court
Karl Procaccini was named as an associate justice of the Minnesota Supreme Court by Governor Walz. Karl started his legal career as a clerk for two federal judges, joined the Minneapolis firm of Greene Espel and worked there for several years. Then he joined the first Walz administration as general counsel and deputy chief of staff. He left that job in July. At just forty, he's a very accomplished guy.
We all thought — and I am sure Karl did, too — that he would be joining the faculty at the St. Thomas law school this fall. But the fates had other ideas. Karl's appointment is due to Justice Natalie Hudson's elevation to Chief Justice upon the resignation of Lori Gildea.
There has been some grumbling on social media and in comment sections about the appointment, mostly based on the fact he worked in the Walz administration on COVID measures and that he was part of the team that represented PolyMet Mining in court as local counsel before he joined the Walz administration.
I dismiss the objections out of hand, and I think you should, too.
The liverish and spittle-flecked MAGA whiners who complain about the oppression of COVID restrictions that undoubtedly saved a lot of lives merit no attention at all. I'll address PolyMet in a moment, but first let me tell you how I know Karl Procaccini.
In the fall of 2016, Barbara Linert, a Republican activist, and I filed a complaint in the Office of Administrative Hearings against the perennial oddball Supreme Court candidate, Michelle MacDonald. We asserted that she had violated the Minnesota Fair Campaign Practices Act by claiming a Republican endorsement she didn't have. MacDonald was represented by the professional Republican malcontent lawyer, Erik Kaardal. Well, Barbara and I won.
MacDonald appealed the decision to the Minnesota Court of Appeals, and since I hadn't done an appeal in a very long time, we cast about for some help. We found it in the Greene Espel firm and its team that included Karl. Karl argued the case in front of the Court of Appeals, and we won that, too. You can read all about it here.
I have stayed in contact with Karl Procaccini since then; he's a public-spirited fellow. I know that he has done pro bono work with the clemency clinic at St. Thomas on prisoners' clemency petitions.
In short, I like and respect Karl Procaccini. He did a great job for me.
As far as the PolyMet Mining representation is concerned, most readers here know that I yield to no one in my opposition to PolyMet's sulfide mine proposal, nor in my criticism of the Dayton and Walz administrations over it, including in this MinnPost commentary, On PolyMet, can the state really 'do things right'?
I have written several other commentaries at MinnPost and elsewhere, wrote scores and scores of articles here at LeftMN and elsewhere decrying the PolyMet Mining proposal, the Dayton and Walz administrations, our regulators, and PolyMet. I was the principal contributor to an ebook, Fourteen Years of Bullshit (which you can still get on Amazon Kindle, I think, although I haven't checked in a while; it's free, so it isn't much of a royalty producer).
In all of this, however, I've not run across or even heard a whiff of a rumor of impropriety by the Greene Espel firm in the representation of PolyMet Mining in the court cases.
I subscribe to the bromide that, at least ordinarily — and the present Trump circus notwithstanding — we try cases, not lawyers. Lawyers represent unpopular clients and causes all the time; it goes with the territory.
So, to my friends in the environmental community, I wish you would just knock it off.
To my friend Karl Procaccini, I say congratulations and good luck and godspeed. Have a good time.
Thanks for your feedback. If we like what you have to say, it may appear in a future post of reader reactions.