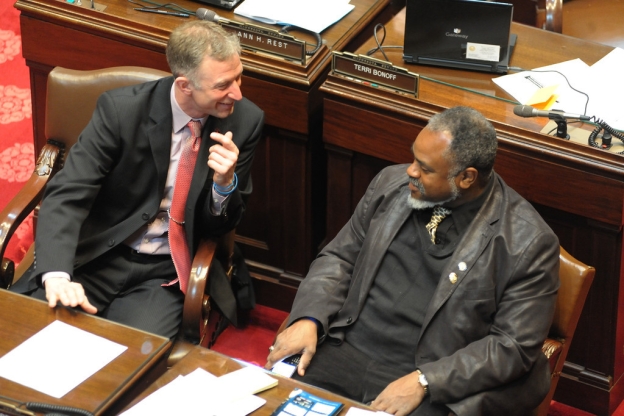 The Weekly Wrap 6-2
♣ The DFL convention is going on today. Expect the level of drama to reach unexpected new lows. Aaron and I will be live blogging the proceedings… for what reason I don't know, perhaps to avert boredom, we shall see.
♣ Senator John Harrington announced on Monday that he will not run for re-election. He failed to get the endorsement for his district 67 seat back in March, when, facing two opponents, the convention voted for no endorsement.
Harrington originally won this seat, replacing Mee Moua, by coming out on top of a nine-way DFL primary, so this was the first time that he had to deal with a DFL nominating convention in his district. That process, apparently, was not to his liking.
That leaves his main challenger for the endorsement Tom Dimond and Foung Hawj running for the seat. Of course candidates have until June 5th to file, so we'll know soon who's all in.
♣ Another retirement announcement this week, Morrie Lanning will not be seeking another term this November, Kurt Zellers announced on Thursday.
Lanning was the chief author of the Vikings stadium bill in the house, wheather or not that had anything to do with his decision I don't know.
The Star Tribune opined that Lanning's retirement is part of a wave of moderate retirements that could threaten bipartisanship. But this assumes that there was significant bipartisanship at the Capitol to lose. It will probably take a new generation of leaders to forge new paths for bipartisan cooperation.
♣ TwoPutt got something in his mail on Friday from his congressman, Rep. Eric Paulson.
♣ Women Winning announced a bunch of endorsements of candidates for the state legislature this week. Get this, they are all women, so they got that part right, now if they get the second part right and they all win, then the DFL will be in pretty good shape.
♣ Education Minnesota also announced a bunch of endorsements.
♣ A super PAC that was supporting Pete Hegseth's bid to run against Amy Klobuchar has announced that it will not be sending any gold Kurt Bills way. You can't see it, but I'm making a sad face right now.
♣ Former US Senator Dean Barkley is running for the Minnesota Supreme Court this November, challenging incumbent justice (and Tim Pawlenty appointee) Barry Anderson. This news does not result in me making any kind of face.
Dean Barkley's current job is with law firm Villaume and Schiek, who represent Michael Brodkorb's in his crusade against gender discrimination in the Minnesota Senate. The lawyer defending the Senate, Dayle Nolan, sent a $46,000 bill to Cal Ludeman last Friday. Thursday, Sen. Tom Bakk, whose signature is needed to pay the bill, called for a hearing of the Senate Rules and Administration Committee to deliberate on the legal expense. On Friday, Majority Leader Dave Senjem indicated that he would do just that.
♣ A lawsuit was filed on Wednesday with the Minnesota Supreme Court challenging the Voter ID amendment that will on the ballot this November.
The lawsuit was filed by Common Cause Minnesota, Jewish Community Action and the League of Women Voters. Their main point of contention:
The lawsuit argues that the question is misleading and deceptive to Minnesota voters because it fails to include key changes that the amendment seek to make to the Minnesota constitution – creating as provisional ballots, requiring equivalent eligibility verification and ending Minnesota's same day registration system.
♣ Secretary of State Mark Ritchie filed a motion on Thursday regarding the awarding of attorney's fees sought by the intervenors in the redistricting case.
Ritchie does a rather effective job of going through all of the fee breakdowns and all but ridiculing some of them.
An example:
The Hippert Plaintiffs do not adequately support their fee petition. The Briggs and Morgan billing submission is almost completely redacted so it is impossible to determine whether the work billed was necessary or duplicative. Indeed, in many instances even the unredacted portions of the bill are so vague as to prevent any meaningful review or analysis.
And another:
Plaintiffs' and Intervenors' requests should be reduced for redundant and excessive hours. See, e.g., Hensely, 461 U.S. at 434.

For example, the Britton Intervenors appear to seek compensation for approximately 36 hours for drafting their Complaint. However, a comparison of their Complaint with the Complaint that Mr. Weinblatt prepared and filed a decade ago in the Zachman case, shows that the Britton Complaint largely duplicates the Zachman Complaint. (Compare Anderson Aff. Ex. D with Britton Compl. in Intervention.) The Martin Intervenors' Complaint is also strikingly similar to Mr. Weinblatt's Zachman Complaint.
Thanks for your feedback. If we like what you have to say, it may appear in a future post of reader reactions.