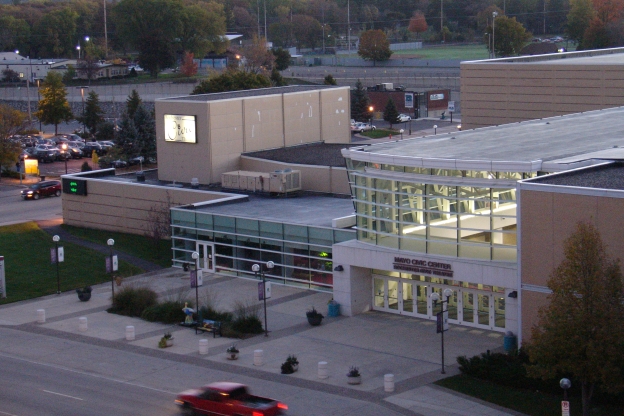 DFL convention live blog
[9:35] Robert Lillehaug announces a DFL delegation to help on election day in Wisconsin. "If you are interested in seeing that Scott Walker is no longer the Governor of Wisconsin…" [applause] "I see there is some interest." Meet at the DFL headquarters at 8 AM on Tuesday if you want to join in.
[9:24] Resolution #57, which would put in the DFL platform a call for a "prove it first" law for sulfide mining projects in Minnesota failed to pass. There is applause from the Range delegation. Scattered boos elsewhere.
[9:15] Jeremy Powers announces the creation of a new DFL Hunting and Fishing Caucus. As he says, "Hunting and fishing is an issue of common heritage for nearly all of us."
[9:10] Chair Ken Martin moves that Rick Stafford be declared Chair Emeritus of the DFL party and be declared a "distinguished party leader." Passes unanimously.
Note: this is a Flash slideshow, so if you are on a device that isn't compatible with Flash, you can see these photos on our SmugMug site.
[6:03] The nominations committee's slate of directors is moved from the floor and passes. Then the convention recesses until 9:00 AM tomorrow. See you then!
[5:57] We just had our first motion to recess. There are still two items on the agenda – election of DFL Directors
[5:33] Soren Sorenson withdraws his name from the contest and backs Javier Morillo and Wes Gadsden. We will now have the very first written ballot and frozen floor after 8 hours of convention business.
[5:13] Soren Sorenson's quest to become DNC Committeeman has reached its apex. After being mistakenly nominated for committeewoman, his name has been properly placed into nominations. There are four candidates for the two male committeeman spots. Bill Davis and Soren Sorenson were nominated from the floor. Wes Gadsden and Javier Morillo were nominated by the nominations committee. Speeches from the candidates will happen soon.
[5:01] After a lot of confusion, the gentleman (Mr. Gadsden?) who had just been elected alternate moves to suspend the rules and moves that Gabe Aderhold replace him as alternate. After a lot of shouting, we actually finally seemed to have elected Aderhold as alternate. But now there is even more parliamentary shenanigans and more confusion. But the chair finally rules the parliamentary inquiry out of order and we have Rick Stafford as elector and Gabe Aderhold as alternate elector.
[4:45] Gabe Aderhold of Edina was nominated from the floor for Presidential Elector, which has created an odd contest. Rick Stafford, who has served in a variety of party positions, was recommended for the spot. But Aderhold gave a fiery speech where he noted that if elected, he would be the youngest Presidential elector in the history of the U.S. Stafford countered with an appeal for the delegates to send him as "an old-timer, the old fart establishment candidate" to be elector. The rules have been suspended, so there will be a voice vote.
[4:00] Jeff Blodgett, state director of the Obama campaign showing some ads. "Because you don't quit, and neither will he." "Now we've created 4.2 million private sector jobs." Blodgett's message is all about jobs and job creation. Hits Romney for the job record in Massachusetts, opposition to the auto company rescue package. Ends with "Mitt Romney on job creation. Not last, but close."
[3:53] Right now, a locked out American Crystal Sugar worker is speaking about the plight of union members. Rick Nolan will speak soon.
[3:38] DFL Chair Ken Martin introducing a resolution in support of Minnesotans United for all Families campaign. Calls it a "divisive and hateful amendment," and takes a formal position against the amendment. Passes on an apparently unanimous vote. Next, a resolution against the photo ID amendment is presented by Ken Martin. It passes as well. The DFL sample ballot will include a recommended no on both constitutional amendments.
[3:34] Dibble: "We will win this by talking face to face with people who know us, love us and trust us….And we'll do this by asking 'what does marriage mean to you?'"
[3:26] Minnesotans United for All Families video playing. "It's a referendum on our values as Minnesotans." The video is very consistent with the messaging from MN United. They've been unfailing positive and highlighting the power and value of commitment among all couples, regardless of their gender. Ending tagline: "Help us make history." Sen. Scott Dibble speaks on behalf of MN United.
[3:13] Brian Barnes, DFL candidate for Congress, just gave a pretty solid stemwinder of a stump speech to the convention. Here's a segment from the previously mentioned embargoed copy of the speech:
We cannot allow those who divide us to govern us, nor will we allow those who do not understand history to determine our future. We will not abide those who hate science to make environmental policy, and we won't allow those with closed minds to dictate to our educators how to open the minds of our children.
[2:34] We just had a rousing speech from Minneapolis Mayor R.T. Rybak, then immediately went back to people trying to eliminate resolution #57.
[2:00] Interesting. A delegate makes a motion to "delete all" of Resolution #57. Fails to achieve 2/3rd necessary to suspend the rules and delete the amendment.
[1:56] United Steelworkers miner speaks against Resolution #57. "This amendment, all it does it gets in there, and puts an issue in Chip Cravaack's bag."
[1:54] Anna Cook from Duluth and Grace Kelly speak in favor of Resolution #57. Trades union official: "this is a critical issue for organized labor." Then requests a 15 minute recess to allow labor to caucus on the issue. Fails.
[1:45] Here comes a copper mining debate. Resolution #57 supports a "prove it first" law for sulfide mining. Rep. Carly Melin has pulled the resolution and is speaking against it. Melin: "There is no such thing as sulfide mining. That is a divisive term invented by people who oppose copper-nickel mining." "We are the labor party, we have to support good jobs." "These are things that China cannot take away from us." [Aaron: but that is who we will sell it to.]
[1:41] Moving into the special consideration period for platform resolutions. This is sometimes a time when some fireworks can happen. Or it could be boring.
[1:35] Staffer for the Brian Barnes for Congress campaign just came around with advance copies of his speech. But I can't tell you about it yet, it's a secret.
[1:31] New DFL constitution was adopted, after debate over a couple of provisions. One would have permitted DFL caucusgoers to cast an absentee ballot if they are unable to be present for the caucus. This change was eventually struck after a debate where some delegates expressed fears that the absentee ballot process could be gamed.
[12:53] Working on some photos. Should be up pretty soon, assuming the internet connection holds.
[12:41] Lots of twitter chatter about Amy Klobuchar not mentioning her Republican opponent, Kurt Bills. I don't see any reason why she should mention him. With low name recognition and no money, Bills isn't really worth mentioning right now. If Klobuchar starts directly attacking Bills, it will be a sign that he's actually gaining traction.
[12:22] Klobuchar's speech is all about bipartisanship and the smaller practical changes that have become her trademark approach. Lead in toys, adoption reforms, preventing the closure of Minnesota car dealerships. The Klobuchar campaign distributed a list of 100 things that Amy Klobuchar has done, and they are heavy on the word "bipartisan."
[12:10] A-Klo is now on stage, her victory lap took longer than her endorsement.
[12:05] Now we can move onto less contentious issues, like sulfide mining.
[12:03] After 23 ballots the convention has deadlocked on the Senate endorsement. I guess we're going to a primary after all. #stillkidding
[11:57] Now is the big moment, will A-Klo pull it out? How many ballots will it take? The tension in the room is palpable. #notreally
[11:55] Even though it isn't, it's now noon. The convention has suspended the rules of time and space.
[11:51] The lights dim, this is when the zombies attack… Nevermind, wrong convention. It's another video.
[11:37] Aaron is better at using his words then me!
In other news Ken Martin may not understand what air quotes are for.
[11:27] After his convention speech, Dayton took questions from the press. Here are some snippets from the conversation.
Regarding job growth in Minnesota, Dayton's speech was pointed in its criticism of the Republican legislature's approach to growing jobs. He stated that for businesses with under $150,000 in property, the GOP proposal to decrease business property taxes would have saved those business $27. Afterward, when asked about the most recent jobs numbers he said "since the low point, Minnesota has gained 78,000 jobs," but also added "it's a tough haul."
One reporter asked if the DFL party was overconfident going into this election. Dayton was unequivocal "no one's taking this election for granted." He added that the loss of the legislature had fired up the party's base.
Extending his criticism of the Republican legislature, Dayton said "…they shut the state down, and they're bragging about it….they have such contempt for government."
When asked what people in Rochester, a swing area, would get from a DFL legislative majority, Dayton specifically mentioned the Mayo Civic Center, and the failure of Sen. Dave Senjem to secure funding to renovate it. "There have been two bonding bills….Senjem chaired the committee….and not a single dollar to renovate this." "Rochester sends $90 million more that they get back in LGA and state aid."
Dayton also signaled that he will make progressive taxation a big issue in the upcoming legislative session and that he would go back to his proposal to raise income taxes on the top 2% in income. "If Republicans win, taxes will remain regressive and unfair."
Dayton was a little standoffish on the question of whether he will be campaigning full-time for DFL candidates. "I have a full time job…I'll do whatever they ask me to do."
Lastly, in regard to the anti-marriage amendment, Dayton said something I think will prove to be prophetic (but I hope is not true.) "I expect the other side will come with some vicious ads at the end." <aaron>
[11:25] Lunch?
[11:15] I hate to make comments about attire, but damn that is a gigantic House of Represenatives pin that Betty McCollum is wearing.
[11:00] Who let Mark Dayton on the floor, he's not a DFL endorsed candidate!
[10:50] Mark Ritchie is spitting hot fire on voter ID.
[10:30] They're playing a video now of the GOPs greatest hits. It's pretty good.
[10:25] The atmosphere here is pretty drowsy and friendly. There's not much dividing the DFL party this year, no endorsement contests, no big platform fight. The tension of the 2010 convention has been replaced by comity. The result of the 2010 election, a DFL governor and a Republican legislature, structures the party's internal relationships to restrain conflict and emphasize unity. [aaron]
[10:15] We're already 30min behind schedule! (I'm kidding, but only kind of)
[10:08] Aaron is around taking pictures of stuff. So we've got that going for us.
[10:00] Tim Walz is now on stage. I'm not going to keep updating who is on stage as its very far from interesting. Let's see what else I can find to update about.
[9:45] And we're off. Ken Martin is now speaking. The drama may now be at its peak.
Thanks for your feedback. If we like what you have to say, it may appear in a future post of reader reactions.