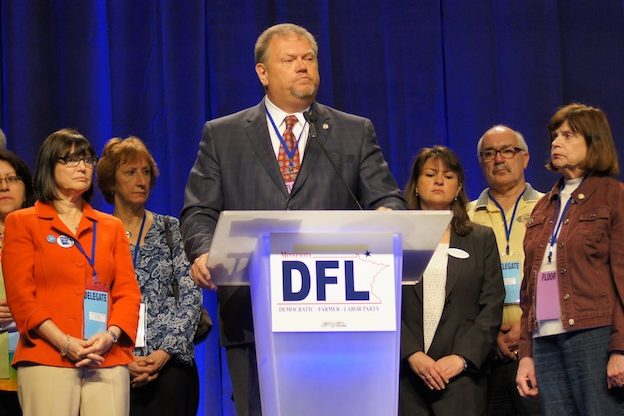 The DFL wave crashes ashore
As morning broke over Minnesota, Republicans woke up to the scattered wreckage of their party. It was an historic election night for the DFL, which took every race it needed. Four more years for President Obama? Check. Control of both chambers of the Minnesota Legislature? Check. A nearly 35 point win for Sen. Amy Klobuchar? Check. Breaking the 30 state win streak of marriage discrimination initiatives? Along with 3 other states, check. Soundly defeating photo voter ID restrictions? Yes we did. Tossing Rep. Chip Cravaack on his ear and electing Rep. Rick Nolan. Check – by nine points. Even Rep. Michele Bachmann, who outspent Jim Graves by 10 to 1, barely hung on for reelection by about 5,000 votes in an even redder 6th district.
There is no mixed message here – there is a mandate. Of course, the question is – what kind of a mandate is it?
Minnesota will have two years of nearly complete one-party government. All of the constitutional officers are DFLers, the Minnesota legislature has two houses with strong DFL majorities, the congressional delegation has only three Republicans left, and one of those (Bachmann) is fatally wounded. There will be a lot of soul searching amongst Republicans to try to find a way back, but the bigger danger to the DFL will be themselves.
This complete victory means a couple of things for certain:
1) Obamacare is coming to Minnesota, no matter what Sen. David Hann says. Expect the Governor to move forward quickly to establish a Minnesota health exchange.
2) Mark Dayton will get his tax increase on the wealthiest Minnesotans. Combined with a recovering economy and a budget baseline that has been significantly trimmed in the last cycle, this will make balancing the budget relatively easy. I say relatively, but keep in mind that budgets are never easy and there's no way to make up all the lost ground on the budget in one cycle. Areas that have been slashed will take time to rebuild, like higher education.
3) Marriage equality is coming to Minnesota. Now is the time, the people have spoken. The Minnesotans United folks have a lot of to be proud of, but their biggest victory is not just in turning back the amendment, but doing so with a clear message in favor of marriage equality. There was no "we're already discriminating in the law, we don't need an amendment" messaging. And the people responded to this message – with 100,000 more Minnesotans voting no than yes.
The full throated support of marriage equality from Dayton, Klobuchar, and DFL legislative candidates and the victory at the polls means the time to strike is right now. As Richard Carlbom, campaign director of Minnesotans United for all Families said, "This conversation doesn't end tonight. It's only just begun."
4) The war on public workers is over. The AFSCME and MAPE contracts that a Republican-led committee rejected will be quickly approved in one of the first acts of the new legislature. Other bargaining units will quickly settle contracts, now that the uncertainty of what would happen to them in the Legislature has been lifted.
But there is a lot of work ahead for the DFL. Minority parties are always unified, since they have more to gain by staying unified. As Star Tribune columnist Lori Sturdevant tweeted last night as the returns began to hint at a DFL legislative takeover:
22 years of divided government seem to be ending in St. Paul. Now the DFL fissures will come into view.

— Lori Sturdevant (@sturdevant) November 7, 2012
She's exactly right. Divisions on environmental issues, single-payer health care, and other issues will quickly snap into relief as groups that worked hard for the DFL legislative majorities want their issues resolved now. The rural/suburban/city divisions in the DFL caucus will become more relevant to the passage of legislation than anything the Republicans say or do. And the leadership of Senate Majority Leader Tom Bakk and Speaker Paul Thissen will be critical to holding what will be fractious DFL majorities together.
But even more important is the role of the Governor. The difference between the 2010-2012 Republican legislature and this one (besides the obvious differences in people and policy) is the unifying role of the Governor. Ultimately, nothing can get done unless Dayton signs off on it. DFL legislators, particularly those who chafed under the "cone of silence" regime on the last budget, will test the Governor on something, relatively soon. The old institutional rivalry between the legislative and executive branches of state government will reemerge, not as an artifact of partisan control, but in its primordial form. But if the last decade has taught us anything, it's this: a well organized and effective executive will dominate a legislature. This is Mark Dayton's majority, if he can keep it.
Thanks for your feedback. If we like what you have to say, it may appear in a future post of reader reactions.