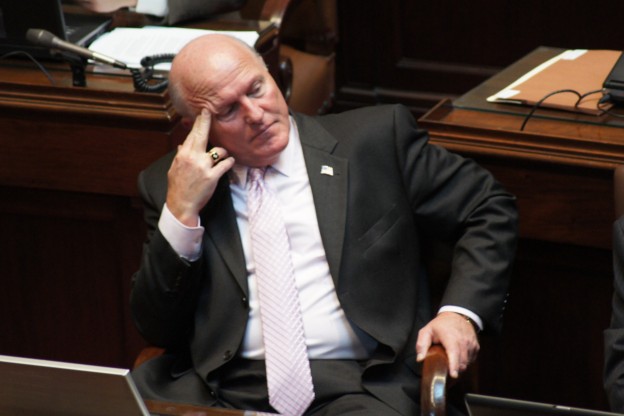 Parry grandstands, blows stack, wastes everybody's time
Thursday morning, the fireworks started early in the Subcommittee on Employee Relations. Chair Sen. Mike Parry (R-Waseca) announced that he would not tolerate any noise from the audience or he would clear the room. He then declared that he had no plan to actually vote on the contracts in front of the committee, but rather planned to ask lots of questions and then wait until later to decide on ratifying the contracts. Rep. Leon Lillie (DFL-N. St. Paul) replied "I question whether you're using this committee as a tool for something it hasn't been used before." What Lillie implied is what everyone knows: Sen. Parry used this hearing to grandstand in advance of his Tuesday primary against Allen Quist.
He wasn't the only one grandstanding. Senator Michelle Benson (R-Ham Lake) declared that taxpayers care about these contracts, "and there aren't a lot of them in the room today." This drew an audience response, prompting Benson to clarify that she meant to say people employed in the private sector. But it goes to show what GOP legislators think about state workers.
On the heels of Parry's allegation that Governor Mark Dayton is a pill popper, DFL legislators were openly derisive of Parry and his bullying style as chair. Rep. Ryan Winkler (DFL-Golden Valley) said his treatment of the audience was disrespectful. "If this were a hearing on business taxes and the room was full of business owners" you wouldn't make that threat, he said. When Lillie then suggested that Parry was calling the hearing to claim per diem, Parry angrily recessed the committee for ten minutes.
When they returned, Parry had apparently calmed down, and the committee continued. But the pattern continued of Republicans declaring their disapproval, and Commissioner Schowalter and Assistant Commissioner Barb Holmes providing facts about the contract.
Here are some of the actual facts about the contract that emerged during the hearing.
– The AFSCME contract contains a 2% raise for the last 6 months of the 24 month contract. This comes on the heels of no across the board increase in the last contract.
– The wage "increases" are less than the amount of wages lost by workers in MAPE and AFSCME from their three week unpaid furlough during the state government shutdown last summer.
– Employee out of pocket health care costs will increase 9% (totalling $7.9 million per year) under these contracts.
– Since the biennial budget has already been appropriated, any increase in employee compensation won't affect this biennial budget.
– Actual state employee compensation has remained virtually flat for the last three years. Meanwhile the overall state workforce has decreased by about 5% in full-time equivalent employees. Vacation payouts and early retirement incentives likely account for the slightly higher compensation/employee. Those are short-term costs that yield long-term savings, and are exactly what Republican legislators were asking for.
But facts aren't important for Parry, Rep. Steve Drazkowski (R-Mazeppa,) and the other Republicans on the committee. No, this was a chance to cluck their disapproval of state workers, lament the demise of their legislative attempts to destroy the state employee unions, and suck the marrow out of their last few precious moments with a gavel in their hands.
While Parry said earlier this week that he was most concerned about health care provisions in the contract, the discussion was mostly about wages. Could it be because someone informed him that he actually gets the exact same health care coverage as a legislator? Or maybe it's because the health care benefits in the current contract were negotiated by the Pawlenty administration? Or maybe it's the fact that there will be a 9% increase in out of pocket costs for employees?
In any case, you can tune in August 23rd to find out. Parry scheduled the next hearing for the day before a tentatively scheduled special session, which could have interesting implications for the special session. Ultimately, the Legislature must take action to approve or disapprove state employee contracts, and this might be the last hurrah for Republican leadership. Expect more grandstanding ahead.
Thanks for your feedback. If we like what you have to say, it may appear in a future post of reader reactions.