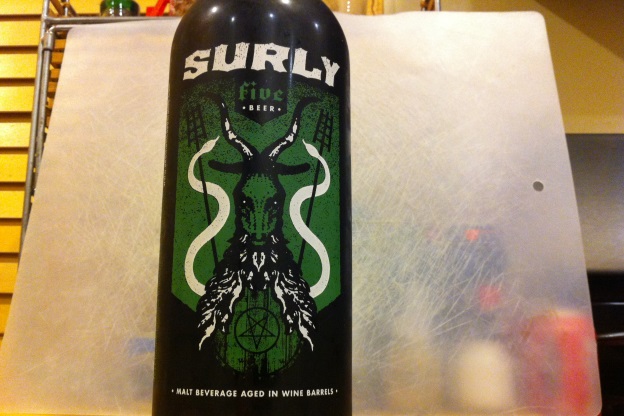 Elections Live Blog
[liveblog]
Pictured above is a bottle of Surly Five that I pulled out of my beer cellar for just this occasion. This occasion being an election of course. But not just an election, no no no, a very special, 35 contestant, Ranked Choice Voting open seat Minneapolis Mayoral election. Plus a whole bunch of competitive Minneapolis city council races. There's even some elections going on in St. Paul today too! Who knew?
Polls have now closed. Until results begin to trickle in, here's a brief (understatement!) overview of the competitive Minneapolis races.
Mayor – Open Seat, RT Rybak retiring
This race features a ballot containing the names of 35 candidates, three times for a total of 105 possible ovals to fill in. And that's just on the Mayors race. If you want to see a ballot in all it's glory, here's a Minneapolis sample ballot. And while there is no shortage of candidates in the race, there are a shortage of polls of it. And by shortage I mean there has been just one public poll. The names included in that poll, the nominal front-runners, are; Mark Andrew, Jackie Cherryhomes, Dan Cohen, Bob Fine, Betsy Hodges, Don Samuels, Cam Winton and Stephanie Woodruff. With so many candidates and Ranked Choice Voting as the method of decision, this race is the very definition of a toss-up.
City Council Ward 3 – Incumbent, Diane Hofstede
This is one of three Minneapolis council districts in which the incumbent City Councilor, Diane Hofstede in this case, failed to get the DFL endorsement and has decided to seek re-election anyway. Jacob Frey was the person who was awarded the DFLs endorsement for this ward and is one of three candidates running against the incumbent.
City Council Ward 5 – Open Seat, Don Samuels running for Mayor
There was no DFL endorsement for this seat and there are four candidates running; Blong Yang, Brett Buckner, Ian Alexander, and Kale Severson.
City Council Ward 6 – Incumbent, Robert Lilligren
Robert Lilligren is another incumbent councilperson who didn't get the DFLs endorsement for re-election. Instead that endorsement went to Abdi Warsame, who is one of five people, besides Lilligren, who is running.
City Council Ward 9 – Open Seat, Gary Schiff ran for Mayor
Alondra Cano is the DFL endorsed candidate in this race and Ty Moore is the Occupy Homes affiliated Socialist.
City Council Ward 10 – Incumbent, Meg Tuthill
Meg Tuthill is the third of the incumbent councilpeople who were not endorsed by the DFL but are nonetheless seeking re-election. Her main rival, and DFL endorsed candidate, is Lisa Bender.
City Council Ward 12 – Open Seat, Sandy Colvin Roy retiring
Sandy Colvin Roy decided against running for re-election after she failed to secure the DFL endorsement. Andrew Johnson is the person who prevented Colvin Roy from being endorsed, although he himself didn't get the endorsement. He's running against Ben Gisselman and two others.
City Council Ward 13 – Open Seat, Betsy Hodges running for Mayor
Linea Palmisano is the DFL endorsed candidate in this race to replace Betsy Hodges. She faces off against Matt Perry and three others.
Thanks for your feedback. If we like what you have to say, it may appear in a future post of reader reactions.