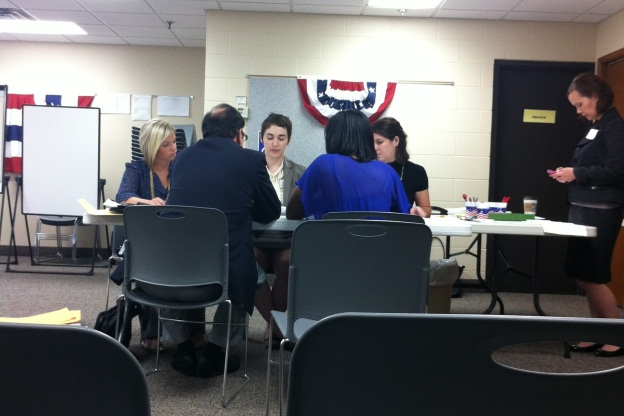 The Weekly Wrap 8-26
So, we had a primary election prediction contest here at LeftMN and I have yet to announce the winner of the contest. So, without further dithering, the winner of the inaugural LeftMN Primary Election Prediction Contest is:
Kyle from Maple Grove.
Your t-shirt is in the mail Kyle and thanks to everyone who participated!
♣ The Legislature was in session on Friday to pass a disaster relief bill for areas affected by flooding that was signed by Governor Dayton shortly thereafter.
Much to the disappointment of many political observers, freshman GOPers did not try to hijack the special session, although one man, Representative Mark Buesgens (not a frosh), moved to adjourn shortly after the session had been gaveled, to prevent a vote on the relief bill. And really, who would expect anything less from the Buesgens?
♣ Mark Dayton chose appeals court judge and presiding judge of the special redistricting panel, Wilhemina Wright as his first appointment to the Minnesota Supreme Court to replace the retiring Helen Meyer.
♣ Speaking of the Minnesota Supreme court, they issued a much anticipated ruling this week regarding Mark Ritchie's authority as Secretary of State to… reject applications of candidates who fail to properly fill out the forms. Links to the ruling can be found here, and here.
♣ The Minnesota Supreme Court also ruled on Mark Ritchie's authority to change amendment titles, in that they ruled they would issue the opinion jointly as it regards the two cases. As they did with oral arguments.
♣ The Minnesota Supreme Court did not, as it had been expected that they would, issue a ruling on the actual case concerning the amendment titles.
♣ The Minnesota Supreme Court also did not, as it had been expected that they would, issue a ruling on the case concerning the the voter ID amendment and it's kosherness, or lack thereof.
My take: they were waiting until after the special session so that the Republicans wouldn't be able to put the amendment back on the ballot after they take it off.
♣ On the topic of preventing people from voting, the two-headed twin cities Mayor Monster expressed its displeasure at the idea during a Monday press conference.
Courtesy of The Uptake:
♣ There was a recount this week in Hennepin county, specifically as it regards house district 59B. The final margin in the race was Raymond Dehn 876, Terra Cole 857, a 19 vote difference.
Terra Cole, perhaps preceding an actual election contest, requested a recount, as the 19 vote margin fell well outside the threshold for an automatic recount.
The recount happened on Thursday and was certified on Friday, the result, Raymond Dehn added a vote and now leads 877 – 857.
♣ It seems that Mark Dayton has become Minnesota's version of the Big Dog, the state's most in-demand Democratic fundraising draw.
And to think, not two years ago someone thought it was a good idea to keep him out of the parties convention. Two years ago DFL legislative candidates were stand-offish about Mark Dayton's tax plans, and now they can hardly embrace them quickly enough.
As they say, elections have consequences.
♣ If, for whatever reason, you wanted to follow Senator Dan Hall's twitter account you can't now, unless he let's you, that's because he's protected it. Why, might you ask, would an elected official, one who is currently running for re-election, why might this type of person want to protect their twitter account?
The answer is that Dan Hall is a giant d-bag who just can't help but say stupid things on twitter. And rather than not saying stupid things on twitter, Dan Hall decided that the more appropriate course of action was to just block people from reading the stupid things he says on twitter.
The City Pages has the full story, as well as the actual Tweets, free from the protection of his twitter account.
The whole thing can be pretty neatly summed up in this one tweet, from John Kriesel of course:
I have a flag in my yard. RT @senatordanhall: Why is it you never see an US flag where you see a Vote No for the Marriage Amendment sign?

— John Kriesel (@johnkriesel) August 20, 2012
♣ It's on! Well, it was already on, so to speak, but now we have a debate scheduled in the hotly contested (not really) first congressional district race between Tim Walz and Allen Quist.
If you want to mark your calenders for the first of what could be three Walz-Quist throw downs, it will be held at the Somerby Golf Community in Byron, on Sept. 27 at 11:30 a.m.
♣ In heart breaking news, truly heart breaking news, the Minnesota Senate Caucus will not be conducting it's annual State Fair survey.
Excuse me while I shed a tear.
♣ While this is not related directly to Minnesota politics, it is in someways related directly to the media world in which we live, the media world in which Minnesota politics lives.
Thanks for your feedback. If we like what you have to say, it may appear in a future post of reader reactions.