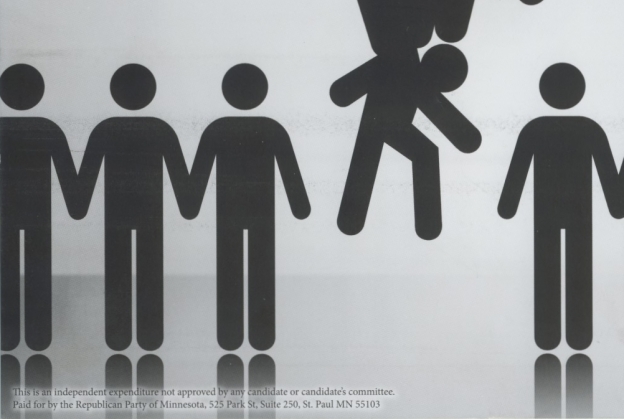 Liars slam Melisa Franzen
The graphic is a corner of a glossy color mailer sent to Edina households this week about how DFL candidate for the Minnesota Senate in District 49 Melisa Franzen was "hand picked" by the Alliance for a Better Minnesota and "ultra-liberal" groups.
Melisa Franzen won a multi-ballot, three-way endorsement contest, but never mind. It is undoubtedly the first piece of feces to be flung by the people — or monkeys — opposing Franzen's election.
The really odious thing, though, about the mailer is its sponsor. If you look carefully in the lower left corner, you'll see that it is an "independent expenduture" by the Republican Party of Minnesota. (No word on whether this was from Republican Senator Chris Gerlach's company.) A mass mailer costs a lot of money that the RPM says it doesn't have.
This, kids, is the same outfit that somehow skated on eviction and recently begged for an installement plan to pay the $27,000 civil penalty it received for cooking the books about the Emmer recount; the same outfit that the Campaign Finance and Public Disclosure Board found to be, well, liars.
The RPM does not have a pot to piss in, and you would not hire this bunch to handle the Chess Club's money.
But here they are, telling you what a terrible person Melisa Franzen is.
It is apparent that Sir Downer is really in trouble; the RPM wouldn't risk missing a payroll to dish dirt on Melisa Franzen otherwise.
Update: Be sure to listen to the LeftMN Radio Hour on AM 950 tomorrow (the 26th of August) when we'll be talking about this RPM hit lit. Two o'clock.
Thanks for your feedback. If we like what you have to say, it may appear in a future post of reader reactions.