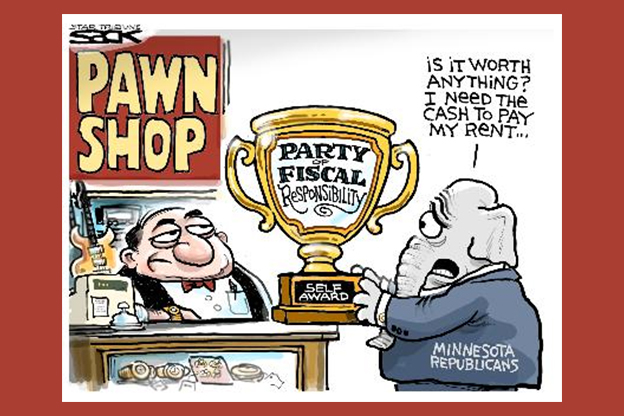 Republican correspondence
Dear MNGOP Faithful,
As you know, my term as you Chairman will be ending soon. It has been an interesting and fulfilling year, although, it has been tinged, of course, with disappointment. But let's concentrate on the successes!
As most of you know, the Campaign Finance and Public Disclosure Board levied a fine against the RPM last summer. It was a pretty big sucker, but we were able to negotiate with the Board to pay the fine in installments. That freed up some cash to distribute several negative lit pieces this fall in important districts like SD 49 in Edina where Keith Downey was our champion.
I am also pleased to tell you that the RPM dodged eviction from its headquarters this last year. We still have a lot of debt, but we're blessed to have patient creditors, especially the three law firms that Tony Sutton hired for the Emmer recount but didn't tell anybody about.
Speaking of Keith Downey, I hope that you will treat him with the same courtesy and respect as you new Chairman as you did me. But my real purpose in writing to you is to solicit you advice about how to continue the success of the RPM. I look forward to your reply!
Thanks — and Happy Holidays! — Pat Shortridge
Thanks for your feedback. If we like what you have to say, it may appear in a future post of reader reactions.