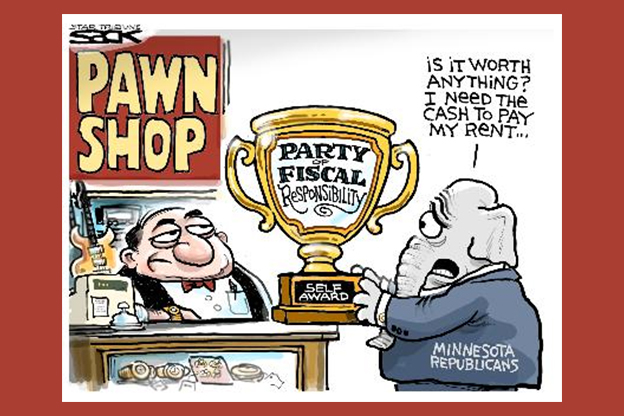 Republican correspondence 8
It is important at this point in time that I make something clear. In spite of the fact that I got three consulting contracts with the Republican Party of Minnesota while Tony Sutton was the Chairman, I hardly know that man. Really. I don't think I would recognize him on the street. I can't even remember who I made the contracts with. Really.
Oh, I know that some people are saying that I did some work for which the RPM has no records or backup of what I did. But is that my fault? That was only part of the $70,000 that I received and only part of the money I got while I was running for the State Senate the first time. Nobody's perfect.
Frankly, there are some rumors going on around here that the RPM can well do without. That's my advice: drop it everyone; let's let bygones be bygones. Water under the dam. Water over the bridge. We'll all be a lot better off.
If anyone has questions, come to my office in the State Office Building. It's across the tunnel from where we used to be; look for the Assistant Minority Leader's Office.
DT
Thanks for your feedback. If we like what you have to say, it may appear in a future post of reader reactions.