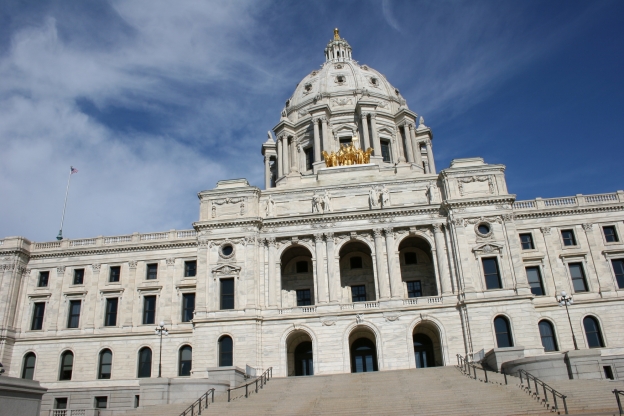 Which primary races are for real?
With the pre-primary campaign finance deadline now passed we get to take our first look at how the legislative races in the state are starting to shape up.
Before I get too much into that though, I think the first thing worth looking at is the fundraising by legislative candidates who will be running in primary elections on August 14th in an effort to determine which races are really for real, as opposed to some dude (or dudette) who filed for the hell of it.
I'll start in the Senate today and move onto the House next week.
The Real Senate Primary Races
SD1 – GOP Primary
Steve Nordhagen v. Jual Carlson
While Jual Carlson is a perennial candidate at this point, that didn't stop him from spending more than twice as much as his GOP endorsed rival Steve Nordhagen this year. And while Nordhagen still has to be considered the favorite, I wouldn't be surprised to see Carlson make a decent showing.
That said, I don't throw around the "perennial candidate" label lightly, but it's a label that certainly applies to Carlson and it's very rare for such a candidate to actually win.
SD10 – DFL Primary
Taylor Stevenson v. Anne Marcotte
DFL endorsed candidate (and 2010 Senate nominee) Taylor Stevenson raised more money and has more cash on hand, but has spent about the same as his primary opponent, Atkin County Commissioner Anne Marcotte.
This race is tough to handicap, Stevenson appears to be the favorite, but I'm not sure it's a large advantage.
SD17 – DFL Primary
Lyle Koenen v. Larry Rice
This will be Senator Lyle Koenen's second primary election battle this year, he won a special election and the primary the preceded it, for the district 20 senate seat in April.
Larry Rice was the DFL nominee against Joe Gimse in 2010 and looks poised to face him again this cycle as he's crushed Koenen in fundraising so far, raising twice as much as the now incumbent Senator.
The disparity is even greater in individual contributions, a measure that gives a little bit of insight into the level of enthusiasm a candidate can generate. Given that Larry Rice has raised three times more in individual contributions, it appears as though he's generating more support right now.
If I was a betting man (who are we kidding, I am most certainly a betting man) my money right now would be on Larry Rice.
SD33 – GOP Primary
Connie Doepke v. David Osmek
While Representative Connie Doepke has raised a lot more than her opponent David Osmek, he has raised enough to not completely get blown out of the water. He's also the party endorsed candidate, so he's got that going for him.
It's hard for me not to see Osmek not being competitive in the primary and would even go so far as to say that he's probably a coin flip to win.
SD47 – GOP Primary
Julianne Ortman v. Bruce Schwichtenberg
Bruce Schwichtenberg has raised some money, but not even close to enough to be competitive with a fundraising machine like Julianne Ortman who should win the nomination easily.
SD57 – DFL Primary
Greg Clausen v. Mike Germain
Former Rosemount High School Principal Greg Clausen is the DFL endorsed candidate in this race and has raised and spent more than twice that of his opponent, 2010 SD37 DFL nominee Mike Germain whose principal source of campaign money has come from a $5,000 personal loan.
Clausen is clearly the favorite.
SD67 – DFL Primary
Foung Hawj v. Tom Dimond v. Robert Humphrey
The second annual SD67 primary scrum will be less convoluted than in 2010, when nine (!) candidates were involved, with the winning candidate, retiring Senator John Harrington getting 31%.
Foung Hawj was in that race too, finishing lumped together with five other candidates at around 10%. The vote totals of the four Hmong candidates in that race add up to over 40%, which should be plenty to win in a three way contest if Hawj can consolidate those voters.
There's plenty of evidence that he has done that, as he's destroying his opponents in fundraising, raising almost twice as much as Tom Dimond and Robert Humphrey combined. Given that, I would be surprised if Hawj doesn't surpass 50% of the vote and win easily.
All The Senate Primary Races
Below is an embedded Google spreadsheet containing all of the fundraising info for those competing in DFL Senate primaries.
Note: For a candidate who's cells contain an "X" they don't have a campaign committee registered with the CFB. In others words, they are not serious candidates. Those who's cells contain a "N/A" they have a committee registered, but there are no fundraising reports yet posted to the CFB site.
And here is the same spreadsheet, but for those candidates competing in GOP primaries.
Thanks for your feedback. If we like what you have to say, it may appear in a future post of reader reactions.