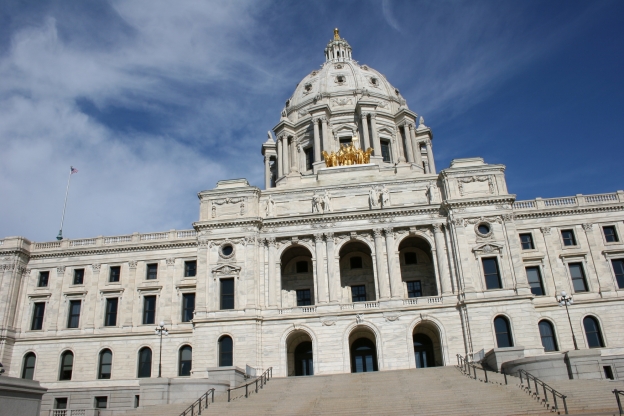 Which house primary races are for real?
Last week I took a look at the Senate primary races that are actually competitive, as opposed to random people filing and than not doing any campaigning.
This week I turn to the house races.
The Real House Primary Races
2B – GOP Primary
David Collins v. Steve Green
Businessman Steve Green is the GOP endorsed candidate in this race. David Collins, the Hubbard County Regional Economic Development Director, is the insurgent challenger. An insurgent challenger who is also endorsed by the Minnesota Chamber of Commerce and the NRA.
David Collins did not seek the endorsement though, so he is not going back on any promises made about abiding, which always helps. It also helps when you rake in almost three times as much in individual contributions as your opponent.
We'll see how much the GOP party endorsement is worth in district 2B, as Collins looks to be the favorite to win this one. The only thing Steve Green has going for him is the party endorsement, but in a year when the party has no money, is the endorsement really worth anything?
4A – DFL Primary
Sue Wiger v. Ben Lien
Ben Lien is the DFL endorsed candidate, Sue Wiger, stop me if you've heard this before, is the insurgent challenger (okay, I'm done with that motif). Ben Lien works for a family services center. Sue Wiger is the executive director of the Bluestem Center for the Arts.
They've raised about the same amount in individual contributions, and in a case with both candidates raising about the same, the edge probably goes to the candidate with the party endorsement, meaning Ben Lien is probably the favorite.
06B – DFL Primary
Lorrie Janatopoulos v. Jason Metsa
This race is for the DFL nomination for Tom Rukavina's old seat. Jason Metsa missed getting the DFL endorsement at the district convention that followed his resignation announcement by a single vote.
This race has some interesting contours to it, with Metsa getting most of the union support and Janatopoulos getting most of the activist support. Metsa is endorsed by Tom Rukavina, Janatopoulos is endorsed by Ida Rukavina.
If you're interested in finding out more on the particulars, check out this breakdown by Aaron Brown.
On the fundraising front Jason Metsa has raised more overall and in individual contributions and he's spent more, but Janatopoulus hasn't gotten blown out in any of those categories.
If forced to pick, I guess I'd say Metsa is the favorite, but I think it's pretty close to a coin flip.
10B – DFL Primary
Joe Radinovich v. David Schaaf
Joe Radinovich works for the American Federation of Government Employees and is the DFL endorsed candidate. David Schaaf is a former state Senator who most recently served as the East Bethel city administrator.
This article from ABCNewspapers.com goes through Schaaf's whole back story in the context of discussing his ascension to the city administrator's job.
Let's just say that after reading the article, I'm a bit surprised he would decide to challenge an endorsed candidate for election, but than again, he has been in and out of politics his whole life.
He's gotten destroyed by Radinovich in fundraising though, and it doesn't seem likely that he can pull this one out. It's a lot tougher to run against a young go-getter with the party endorsement than to wait in city hall till the filing deadline is almost up and get yourself a city council seat.
11A – DFL Primary
Bruce Ahlgren v. Mike Sundin
Cloquet Mayor Bruce Ahlgren is challenging DFL endorsed candidate Mike Sundin. Sundin won the endorsement over three other candidates, none of whom was Bruce Ahlgren.
While Sundin has raised almost twice as much overall money, he's actually raised slightly less in individual contributions than Ahlgren.
This race will be another one that tests the value of the party endorsement.
11B – DFL Primary
Tim Faust v. Nathan Johnson
Former legislator Tim Faust is running against city planner Nathan Johnson. This race features no party endorsed candidate. In that case you might suspect that the veteran legislator would be able to marshal superior financial resources, if you guessed this though, you would be wrong.
The newcomer Johnson has managed to raise more money both in individual contributions and overall. He's also been forced to spend more though, as he faces a name recognition gap.
This confluence of information leads me to suspect that while Johnson may be the slight favorite, this thing could go either way.
11B – GOP Primary
Mitch Pangerl v. Ben Wiener
And the winner of the above race will face the winner of this one, also suffering from a case of no-party-endorsementitus. In this case it's due to the last minute retirement (the day before the filing deadline) of incumbent legislator Roger Crawford for health reasons.
Pine County Commissioner Mitch Pangerl faces farmer and businessman Ben Wiener. Pangerl is leading in fundraising across the board and as a county-wide elected official would seem to have the edge.
17B – DFL Primary
Jessica Rohloff v. Mary Sawatzky
Mary Sawatzky is the DFL endorsed candidate and is a Special Ed teacher at Willmar Middle School and President of the local teachers union.
Jessica Rohloff, a resource director for Habitat for Humanity, is challenging the DFL endorsed candidate in the primary because "the hurried schedule created by redistricting did not allow for the time needed."
Sawatzky has raised more than Rohloff overall, but they've raised about the same amount in individual contributions.
The edge in this race probably goes to Sawatzky, simply because she has the endorsement, and in a primary with no big top of the ticket race driving turnout, that may be what puts her over the top.
33B – GOP Primary
Steve Smith v. Cindy Pugh
This is the main event of the legislative primaries on the GOP side. Steve Smith is in his eleventh term in the house, having first been elected in 1990.
The twist here is that the incumbent legislator Smith, is facing the GOP endorsed candidate and southwest metro tea party founder, Cindy Pugh.
And not only has she received the endorsement of house district 33B Republicans, she also received the very esteemed endorsement of one Kurt Zellers of Maple Grove.
Given that the aformentioned Kurt Zellers, who's neck is incapable of being stuck out, endorsed her, I've got to think that she's got this thing in the bag.
43A – DFL Primary
Peter Fischer v. Bob Hill
In this race we have a case of two candidates agreeing to abide by the endorsement, one of those candidates winning said endorsement (Peter Fischer) and then the other candidate (Bob Hill) deciding that instead of abiding by the endorsement, he meant to say, screw your endorsement.
Not only that, apparently struggling to raise money Bob Hill then went out and loaned himself $25,000 for the race. So while Peter Fischer raised more than twice as much in individual contributions, Bob Hill has raised almost three times as much overall.
The rub? He's got $793 in the bank right now, with over $41,000 of campaign debt!
Peter Fischer should win this one.
59B – DFL Primary
Raymond Dehn v. Terra Cole v. Ian Alexander
This is an interesting race in that there are three candidates who are all raising and spending a good amount of money.
Lawyer and former Republican, Ian Alexander, leads the way with over $18k in individual contributions. Raymond Dehn, an architect, raised almost $13k and Terra Cole, a community organizer, raised almost $11k.
It's tempting to give the edge to Alexander, but in a real live three way race it's really anybody's to win.
All The House Primary Races
Below is an embedded Google spreadsheet containing all of the fundraising info for those competing in DFL House primaries.
Note: For a candidate who's cells contain an "X" they don't have a campaign committee registered with the CFB. Those who's cells contain a "N/A" have a committee registered, but there are no fundraising reports yet posted to the CFB site. Names in bold are incumbents.
And here is the same spreadsheet, but for those candidates competing in GOP primaries.
Thanks for your feedback. If we like what you have to say, it may appear in a future post of reader reactions.