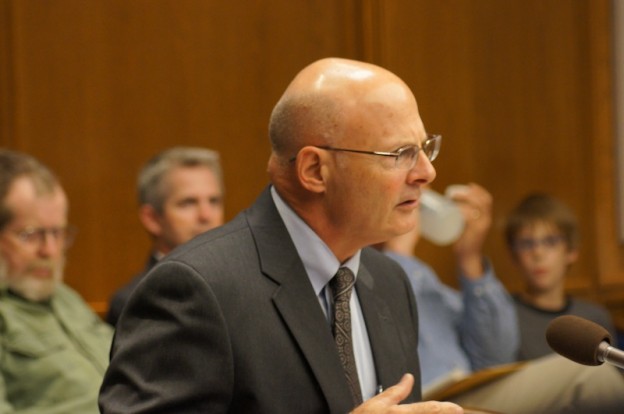 Mining regulator revolving door continues to spin
One troubling aspect of the State of Minnesota's approach to regulating mining companies is the movement of former state regulators into positions with the industry that they used to regulate. With a little-noticed personnel move last week, yet another former top-level state mining regulator has moved into a position as a consultant for the mining industry.
The revolving door of the office of Director of DNR Lands and Minerals division continues to spin with the departure of Larry Kramka, former head of Lands and Minerals. Kramka left in August to take a position with Houston Engineering. His new position at Houston Engineering involves "leading the firms environmental sciences, environmental review, mining, regulatory and permitting efforts." Kramka replaced Marty Vadis, who left in 2011 to join IDEA Drilling. IDEA Drilling is a subcontractor for several mining companies in northern Minnesota, and has been embroiled in the controversy over mineral leases underlying private land. In fact, IDEA President Bill Travis touted the hire of Vadis as a reason that you can trust the company to protect the environment.
Even more brazen is the fact that a former head of the Minnesota Pollution Control Agency, Brad Moore is now Executive Vice President of PolyMet after a brief stop at another Minnesota mining industry subcontractor, Barr Engineering. Moore now is in charge of navigating regulations instead of enforcing them, and stands to benefit handsomely since he holds 200,000 shares of PolyMet stock. His VP counterpart at Twin Metals, Bob McFarlin, the former Minnesota Department of Transportation head, was hired for "his firm understanding of the political environment in Minnesota."
Let me translate that for you: these hires are all about access and regulatory capture. The integrity of the regulatory process can't be maintained when all of the former referees are being hired to work the current refs, oftentimes their former subordinates. But the saddest fact is this: to "serious" observers of the Minnesota Capitol, none of what I've said here will shock. It's just business as usual in St. Paul.
Thanks for your feedback. If we like what you have to say, it may appear in a future post of reader reactions.