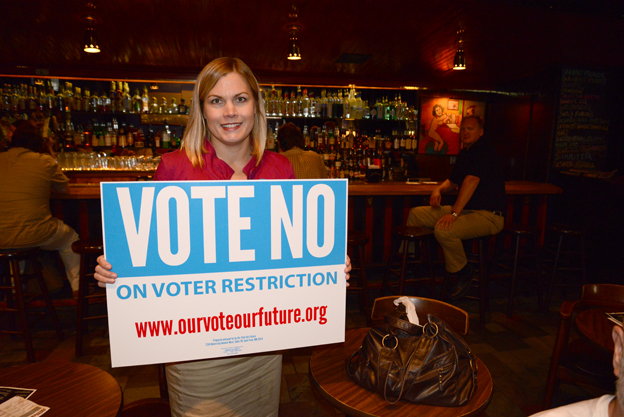 The Our Vote, Our Future campaign comes to DL
Last night at Drinking Liberally, Greta Bergstrom of the Our Vote, Our Future campaign (and the communications director for Take Action Minnesota, too) spoke at DL about the campaign and some of the things that the voter suppression amendment would do. Greta would have had lawn signs for distribution, but the current supply is already out on people's lawns. We'll put up a note here when the supply is replenished, so that you can get one, too.
During her talk, one of the things that Greta mentioned was the extra hardship that the amendment would visit on rural residents. It's one of the reasons that Colin Peterson and Tim Walz are speaking out against the amendment. Chip Craavak and Michele Bachmann? Not so much.
Here's the word from the link above about a couple of counties in Peterson's district:
Peterson said he's worried about the costs and consequences to eligible voters if the so-called Voter ID act passes — especially for seniors who may not have access to a birth certificate to secure a photo ID.

"Over 90 percent of eligible voters in Kittson and Marshall counties rely on mail-in balloting every election cycle," Peterson said. "These are Minnesotans who depend on being able to return their ballots through the mail — a system that has worked effectively for years. People ought to know the costs and consequences this amendment would pose to northwestern Minnesota before they vote. It's a lot more complicated than people realize."

It's a big deal in Kittson County, where County Commissioner Joe Bouvette said mail-in balloting that over 90 percent of county voters rely on could not be easily or affordably replaced.

That's because "most of our townships don't have a place to vote — a building, town hall or other accessible location to reintroduce in-person voting."

Ninety-two percent of Kittson county precincts (36 of 39) and ninety percent of Marshall county precincts (55 of 61) rely on absentee-balloting by mail.
These two rural counties face costs, estimated at $250 per voter to comply with the amendment, Bergstrom said, confirming information that I'd gotten earlier from the ACLU's Carolyn Jackson.
Bergstrom also recommended a short video for people with questions about the amendment.
Thanks for your feedback. If we like what you have to say, it may appear in a future post of reader reactions.