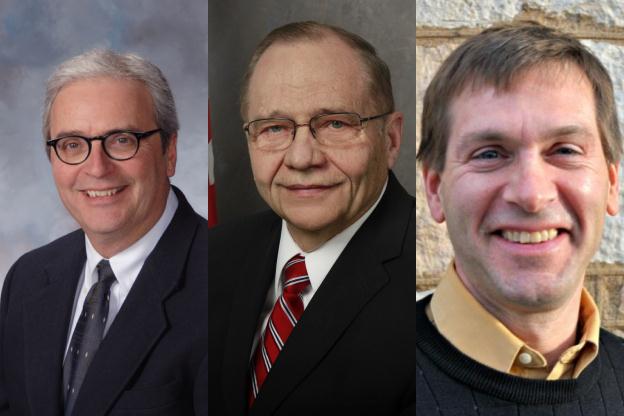 Bonus Election Preview: 19A
On Tuesday February 12th three men will face off for the Minnesota House district 19A seat left open by the retirement of Terry Morrow. The three candidates are DFLer Clark Johnson, Republican Allen Quist and Independence party nominee Tim Gieseke.

As you can see from the 2012 election results to the right, Terry Morrow did not face a challenger in Novembers election. So those numbers won't really do us much good in analyzing the current three-way race.

The hPVI of the district is D+2, so it should be a somewhat easy hold for Democrats (as we learned previously, hPVI skews about four points in the Republican direction, so a D+2 seat means the DFL candidate should win by about ten points).

Minnesota House District 19A info

2012 Election Results

Total Votes: 17679
Precincts: 38
Terry Morrow (DFL): 97.65%
Write-in** (WI): 2.35%

Demographics

| | | |
| --- | --- | --- |
| | Total | % |
| White: | 36,272 | 91.661 |
| Minority: | 3,292 | 8.170 |
| Black: | 930 | 2.350 |
| Hispanic: | 1,435 | 3.626 |
| Indian: | 192 | .485 |
| Asian: | 646 | 1.632 |
| Total: | 39,572 | |
But this is not an ordinary election, it is a Bonus election. I have only analyzed the reliability of hPVI as it pertains to general election outcomes. It's likely that there are systemic differences between a general election electorate and a special election electorate.
Additionally, hPVI is now one election cycle out of date, and until I update it, which won't be till after the legislative session is over, we're probably better off not putting too much emphasis on it in an analysis of this race.
And since there wasn't a real legislative race in this district in 2012, we'll have to look at how the Presidential, Senatorial and Congressional candidates did in the district.
Barack Obama won the district over Mitt Romney 52%-45%, while winning the state 53%-45%. About a half point under-performance by the Democrat.
Amy Klobuchar won the district over Kurt Bills 67%-28%, while winning the state 65%-31%. About a five point over-performance by the Democrat.
Perhaps more important than those two races though, Tim Walz won the district over Allen Quist 63%-37%, while winning the first congressional district as a whole by a 58%-42% spread. A roughly ten point under-performance by the Republican candidate Allen Quist.
The very same Allen Quist who is now running for the House seat that this post is the subject of.
Taken at face value, this would seem to indicate that Allen Quist doesn't have much of a chance in this race considering he just lost this district by 26 points in November.
It would be a mistake to take these numbers at face value though, after all, Tim Walz calls Mankato home, so this district represented one of his strongest bases of support.
The district lines aren't the same of course, but in 2010 in Terry Morrow's old 23A Tim Walz similarly outperformed his district-wide totals, winning 57%-38% in 23A, while winning 49%-44% overall.
Because of this uncertainly involving how Tim Walz presence effects the congressional numbers, it's probably a good idea to just ignore those.
That just leaves us with the Presidential numbers, in which Barack Obama under-performed ever so slightly, and the Senatorial numbers in which Amy Klobuchar over-performed by about five points.
If you split the difference you get pretty much what hPVI was already saying anyway, around D+2. Which means that in a general election Clark Johnson would be the favorite to win.
But due to the presence of an IP candidate, and the fact that Allen Quist is hardly your run-of-the-mill state legislative candidate, I'm going to call this one a toss-up.
Thanks for your feedback. If we like what you have to say, it may appear in a future post of reader reactions.