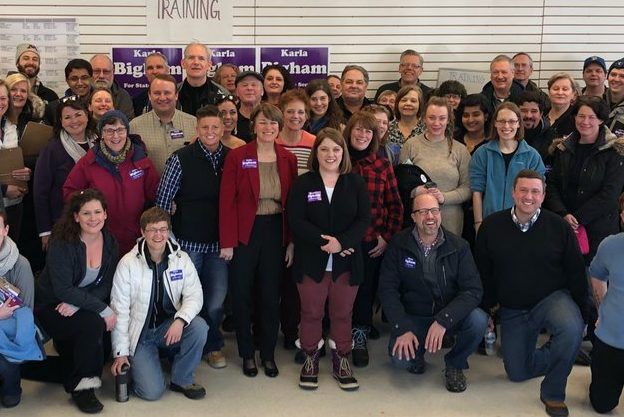 Bonus Election Preview
There are two Bonus Elections happening in Minnesota today. Both of them to replace members who resigned due to various allegations of sexual assault and harassment.
A question you may have (it's a question I had) is "why are these elections happening on a Monday anyway?"
State law bans overlapping with existing local election (Tuesday), plus wanting to get winners seated by 2/20 session start while leaving time for a primary left Dayton with no other option

— Kyle Potter (@kpottermn) February 10, 2018
With that out of the way, lets look at the actual elections that will be happening.
SD54
hPVI
D+1
Candidates
Karla Bigham (DFL)
Danny McNamara (R)
Emily Mellingen (Libertarian)
Overview
This is a suburban/exurban district primary made up of Cottage Grove, Hastings and South St. Paul, stretching from inside the I-94 beltway to the Minnesota-Wisconsin border and south to Hastings.
Donald Trump beat Hillary Clinton in this district in 2016 by about 1.5% and the Republican candidate is a former Rep, Danny McNamara. These two things have combined to make some quite bullish about the GOPs chances in this race. Call me dubious.
Yes, Donald Trump won the district in 2016, but the political environment has shifted quite a bit since. In fact, there was a Bonus Election in the Wisconsin Senate district (SD10) directly across the river from this Senate district not even a month ago.
What happened in that Wisconsin Bonus Election? Certainly not the result the GOP was looking for. Wisconsin SD10 was won by Donald Trump 63%-37% (two-party vote share), a much larger margin than his 1.5% victory in Minnesota SD54. And in the recent Bonus Election the Democratic candidate won 55%-45%. That's a 37 point swing from Republican to Democratic.
There was also a recent Bonus Election in Iowa (HD6) that resulted in an almost 20 point swing towards the Democratic candidate from the 2016 Presidential results. There were also four Bonus Elections in Missouri just last week that resulted in 53, 31, 25 and 18 point swings toward the Democratic candidate.
It's not clear how much weight should be given to these Bonus Election results when trying to figure out what will happen in the Minnesota Bonus Elections, but certainly some should be given.
With all the normal caveats about how impossible it is to predict who will actually show up for a special election, given the environment, it would be a surprise if the DFL lost this seat.
HD23B
hPVI
R+8
Candidates
Melissa Wagner (DFL)
Jeremy Munson (R)
Overview
This is a mostly rural district that lies to the west of I-35 and mostly to the south of Mankato. Donald Trump won this district by 27 points, 59-32, while the previous Rep was winning 67-33.
That said, I think this race is more likely to be competitive than the SD54 race. That R+8 hPVI may look a little daunting, but that's almost entirely due to Hillary Clinton's dramatic underperformance in the district. 2015 hPVI had this as an R+1 district.
Additionally, the previous occupant rarely faced serious election challenges and often faced no opposition at all.
Even if this really is an R+8 district though, given what I wrote above about the overall Bonus Election environment this race is taking place in, an R+8 district may not even be safe for the GOP.
While I don't think a DFL victory here should be expected, I do think it's more likely that the DFL wins this seat than it is that the Republicans win SD54.
Thanks for your feedback. If we like what you have to say, it may appear in a future post of reader reactions.