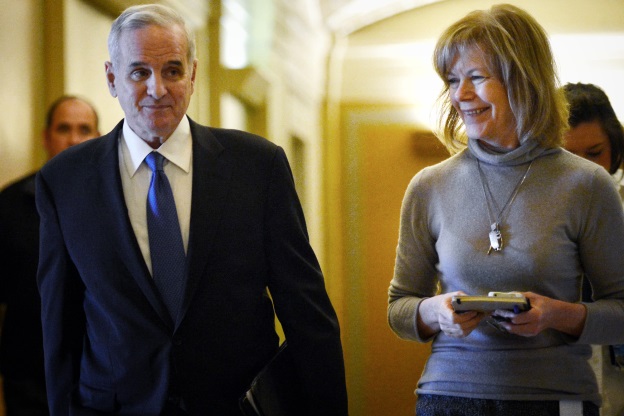 The Weekly Wrap 2-9
♣ Last week current Lt. Governor Yvonne Prettner Solon announced that she will not be running for re-election to her post in 2014. Since than, and even before, there was much talk of who would be tapped to replace her on the ticket. Early this week Governor Mark Dayton revealed his choice:
Gov. Mark Dayton looked no further than his own office to find his new running mate. He named his chief of staff Tina Smith to join his re-election ticket.

The governor's campaign said Smith brings decades of experience in both the private and public sectors to the ticket, and that Smith is a proven leader who has demonstrated time and again her unique ability to solve problems, develop consensus and deliver results.
♣ The Independence Party will be fielding a candidate in the US Senate race:
A Roseville resident who backed former Texas U.S. Rep. Ron Paul's campaign for president in 2012 plans to run for the Independence Party's nomination for U.S. Senate.

Hannah Nicollet is the first person to step forward as an IP candidate to challenge Democratic U.S. Sen. Al Franken.
♣ I guess when you make mentions of possibly running for Governor, you have to at some point confirm you are not running, but the fact that she didn't do anything prior to the precinct caucuses on Tuesday seemed to make that clear. Nonetheless:
State Sen. Karin Housley says she won't seek the Republican Party nomination for governor.

The first-term senator from Washington County had been mentioned as a possible addition to the crowded GOP field hoping to defeat Gov. Mark Dayton, who is seeking re-election in November.
♣ As mentioned in the above item, precinct caucuses were on Tuesday and the only drama (aside from a couple precincts in Minneapolis) was on the Republican side. At the caucuses Republicans cast preference ballots for both the United States Senate and Minnesota Governor races. First we'll look at the results for Governor:
Marty Seifert 29%
Dave Thompson 26%
Jeff Johnson 17%
Undecided 10%
Scott Honour 9%
Kurt Zellers 8%
Rob Farnsworth 1%
It was a great showing for Marty Seifert, and a decidedly terrible showing for Jeff Johnson. This is what Michael Brodkorb had to say about the Gubernatorial straw poll prior to it happening:
The Republicans will have a straw ballot preference poll for governor tonight and the only big news will be if Hennepin County Commissioner Jeff Johnson and State Senator Dave Thompson DON'T finish in first and second place.
Well, Dave Thompson finished in a close second, but Jeff Johnson finished far behind in the front runners in third place. And after just getting into the race a few months ago, Marty Seifert comes out on top. This was a huge victory for Marty Seifert, and will give him a ton of momentum going forward. The question now is whether Jeff Johnson sticks it out to the convention or steps aside.
The performance of Kurt Zellers and Scott Honour isn't that surprising, since both have indicated that they won't be abiding by the endorsement and will run to the primary regardless. But Seifert had said the same thing, and he won.
At this point Marty Seifert has to be considered the front runner for the GOP nomination for Governor, but of course, he's been in that position before and couldn't close the deal.
Now let's look at the Senate results:
Julianne Ortman 31%
Mike McFadden 22%
Undecided 16%
Jim Abler 15%
Chris Dahlberg 11%
Harold Shudlick 3%
Monti Moreno 2%
As expected Julianne Ortman won, and it wasn't all that close. But the surprising thing, to me at least, was the performance of Mike McFadden.
Again, here's Brodkorb:
The most-well funded campaign for the U.S. Senate, Mike McFadden, isn't expected to have a strong showing in tonight's straw ballot. McFadden has not agreed to abide by the endorsement of the Republican Party of Minnesota for the U.S. Senate. McFadden is running in the Republican primary election in August. It would be big news if McFadden finished among the top-three in tonight's straw ballot.
This strong showing by McFadden may be enough to convince his campaign to actually try for the party endorsement at the state convention, as a win there will all but assure his spot on the ballot.
♣ And speaking of the drama on the DFL side:
The caucus at the Brian Coyle Center in Cedar-Riverside produced an overflow crowd of more than 300, a pre-caucus argument handled by the police and a subsequent physical attack on one of the participants.

Eventually, staff from the Coyle center decided to shut down the event, and police quickly dispersed the crowd.
The high turnout is the result of the race between long-time DFL Representative Phyllis Kahn and challenger Mohamud Noor. The precinct caucus has been rescheduled and will be run by representatives of the DFL party from outside the precinct.
♣ Representative Ernie Leidiger announced his retirement earlier this week:
Minnesota State Rep. Ernie Leidiger will not seek re-election to the House after two terms, he said Wednesday.

Leidiger, R-Mayer, said he intends to leave his post to spent time with "an expanding family" and to re-launch a business enterprise.
Thanks for your feedback. If we like what you have to say, it may appear in a future post of reader reactions.