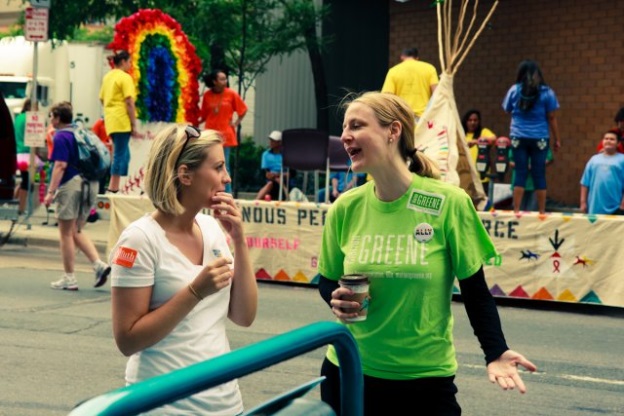 The Weekly Wrap 5-18
♣ Former State Rep. Marion Greene defeated St. Louis Park Council-member Anne Mavity 54%-46% for the Hennepin county commissioner seat left open by Gail Dorfman. Congratulations to Commissioner-elect Greene.
♣ The DFL announced the schedule for the state convention, in the last weekend of May, in the beautiful city of Duluth, in the Duluth Entertainment Convention Center. Of said place, Yelper Rob H. says: "I found the facilities to be professional and well kept."
Most of the action will take place on Saturday with the endorsing of all the candidates, order of which will be as follows:
Auditor
Attorney General
Secretary of State
Governor and Lt. Governor
US Seante
And that will be it for Saturday. The platform stuff will happen on Sunday, meaning that the long awaited (by me mainly) DFL convention meltdown over Polymet will likely not happen after all. This is not to say that there won't be a fight, there probably will be, it just won't be the same.
I feel a bit like a child who didn't get their preferred Christmas present, but for the party, this is likely the best way to handle things. For those who like me were hoping for a fight over Polymet on Saturday though, there is always the possibility that the Auditor endorsement could be a sort of proxy for that.
Last year, as a member of the Minnesota Executive Council, Auditor Rebecca Otto voted not to approve mineral exploration leases for sites including Polymet. This drew the ire of many in the pro-Polymet faction of the DFL. There are no other DFLers that currently have registered campaign committees for Auditor, but that doesn't mean there won't be an attempt to make a point by contesting her endorsement. I would be shocked if she didn't get endorsed though.
Short of some possible shenanigans with the Auditor endorsement, the only race in which the endorsement will be seriously contested is the Secretary of State contest between State Rep. Steve Simon and State Rep. Debra Hilstrom. There will be a lot of pressure for this race to not go more than a few ballots, as the party will want to get Dayton and Franken endorsed and everyone out by 6pm.
Both candidates are from the cities and tend to be on the progressive side of the issues, so it seems likely that many delegates will not have a strong preference either way and would be happy with either person winning. So I doubt this goes beyond three ballots, and more then likely will be over after just one or two.
But there is the possibility that after the first ballot both candidates have very close to 50%. And if they both have strong floor operations (or weak ones for that matter) this could end in no endorsement. But I don't think the chances of that are very high.
♣ Some new ads came out this week! Everyone loves ads right? Well, you're getting them anyway, these candidates paid someones hard-earned money to make them (if not necessarily air them), they deserve to be seen right?
First up, GOP candidate for Governor Jeff Johnson, like Mike McFadden before him, uses his child as a prop in his new spot:
Next, a group called Compete Minnesota! (yes, with the exclamation point, and I know, ugh) is out with a pro-Scott Honour spot:
The ad opens by saying that Scott Honour opposes state-run Obamacare in Minnesota and is the only candidate who "wants to scrap the whole program." The next twenty seconds is essentially a series of stockphotos talking about how great Scott Honour is. And then it ends with a call to action telling people to "Tell Scott Honour to keep fighting against Obamacare," and giving them a phone number to make this plea.
Disjointed would be a word I would use to describe this ad. Sans-joints another. This ad is essentially "Scott Honour is the bestest" wrapped in the hard candy shell of "And he hates Obamacare too!"
Also, Scott Honour is running for Governor of Minnesota, he can't really do anything about Obamacare. If elected he could maybe do something about MNSure, but he couldn't just scrap the whole program without the DFL controlled Senate acquiescing, which they almost certainly wont.
Finally we have a new ad from Mike Obermueller that is actually fun, something not often seen in political ads:
♣ On Thursday at Drinking Liberally Minneapolis, deep in the heart of Nordeast, we welcomed Michael Brodkorb as a guest for a conversation about the upcoming party conventions as well as other things. The event was written up by Brodkorb himself in his new Strib column for those who weren't or for those who were and want to know his thoughts on the evening.
♣ Mike McFadden sat down (I don't know if he was really sitting, this is just a thing people say) for this interview with MinnPost's Cyndy Brucato. For those familiar with McFadden's particular style of answering questions, i.e., not answering questions, you can be assured that he doesn't disappoint.
Rather than frisking the interview myself though, I will point you to Eric Black's frisking of Mike McFadden, here's a taste:
When asked why he is running for the Senate, McFadden often begins his answer with "because we can do better." Well, sure, everyone can always do better. But other than inviting people to think about their grievances with "Washington" and blame them on Franken/Democrats/Obamacare, what is McFadden promising to do, specifically, that would be better, and for whom?
Thanks for your feedback. If we like what you have to say, it may appear in a future post of reader reactions.