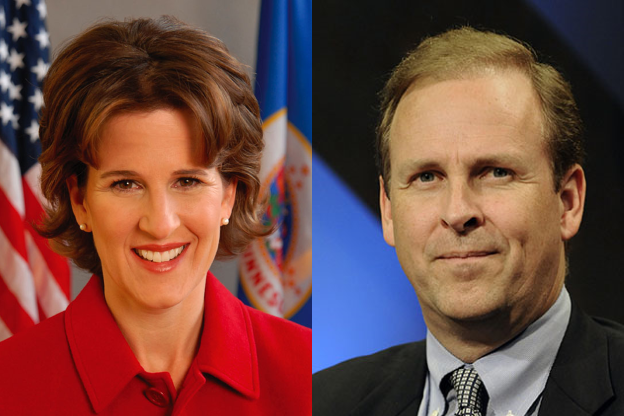 The Weekly Wrap 7-20
♣ There have been a number of developments in the race for the most glamorous political position in the entire state of Minnesota, I'm talking of course about the State Auditor's race.
We'll start with this ad from challenger Matt Entenza:
This ad pretty well encapsulates Entenza's pitch, which is; "I'm progressive, I'll be an activist auditor (whatever that means), and also I'm progressive. Did I mention that I'm endorsed by Keith Ellison?"
Also, Entenza will be spending a lot of money to air this ad:
Entenza, a former state representative, formally notified the campaign of incumbent DFL Auditor Rebecca Otto this week that he will not sign a public subsidy agreement. That allows him to exceed the election cycle expenditure limit.
Also putting an ad on the TeeVee is incumbent Auditor Recbecca Otto:
From the looks of it, @Rebecca_Otto TV ads in MN auditor race (you read that right) begin Monday. At least $100K booked into August #mn2014

— Brian Bakst (@Stowydad) July 16, 2014
That ad:
Like Entenza's ad, Otto's ad is a good summation of her pitch to voters. She takes a couple not-so-veiled swipes at Matt Entenza right off the bat, saying "It's not a glamorous job. You're not the Governor, you don't make policy." Then she pivots to the "this is why I'm awesome" part of the ad and concludes with "DFL endorsed!"
Now that both candidates have their positive spots out of the way, the question I have is if we will see any negative ads in this race.
♣ More ads!
First up, another Al Franken ad:
GOP Gubanatorial hopeful Scott Hounor is up on the air with a spot:
I guess this is a two-fer ad, two 15 second spots rolled into one. The content of what he's saying is standard fare from the conservative talking point playbook, but the ads themselves aren't terrible, at least when compared to what the rest of the Minnesota Republicans have been turning out so far.
♣ Much derision has been heaped upon the Mike McFadden ad in which he takes a hit to his man parts, but at least out media outlet sees things differently:
The Mike McFadden U.S. Senate campaign has made lemonade from lemons with its latest ad, which shows the Republican coaching youth football.

Despite the fact that the ad has drawn snickers for apparently showing McFadden taking a hit to the groin from one his young players (and quickly dubbed "groin gate" on social media), Time.com named it one of the six best political ads of the summer.
My reaction to the above information was, "Time hasn't folded yet?"
Apparently not, and with taste like that, it's no wonder why!
♣ Congressional fundraising numbers, courtesy of DailyKos Elections:
CD
Name
Party
Raised
Self
Fund
Self
Loan
Spent
CTD
CoH
MN-01
Tim Walz
(D-inc)
$232,000
$101,000
$1,056,000
$542,000
MN-01
Aaron Miller
(R)
$104,000
$40,000
$39,000
$136,000
$107,000
MN-02
Mike Obermueller
(D)
$152,000
$101,000
$569,000
$289,000
MN-02
John Kline
(R-inc)
$295,000
$224,000
$2,117,000
$1,687,000
MN-06
Tom Emmer
(R)
$279,000
$272,000
$1,112,000
$260,000
MN-06
Rhonda Sivarajah
(R)
$13,000
$2,000
$19,000
$82,000
$211,000
MN-07
Collin Peterson
(D-inc)
$268,000
$70,000
$1,016,000
$717,000
MN-07
Torrey Westrom
(R)
$226,000
$72,000
$430,000
$328,000
MN-08
Rick Nolan
(D-inc)
$275,000
$159,000
$1,081,000
$579,000
MN-08
Stewart Mills
(R)
$338,000
$122,000
$403,000
$989,000
$429,000
Notes:
The incumbents in the 1st and 2nd districts, Walz and Kline, continue to dominate the fundraising in their races.
In the sixth district Tom Emmer has seemed inevitable since he announced, and Rhonda Sivarajah has done nothing to change that.
Torrey Westrom got out of the fundraising gate strong in his challenge against Collin Petersen, but has since come back down to earth and now faces a significant cash-on-hand disadvantage.
Stewart Mills continues to raise more than Rick Nolan, but he continues to spend more as well, the result is a virtual deadlock in cash-on-hand numbers. As expected, this continues to be the most competitive of the Minnesota congressional races.
♣ RIP:
Mary Ellen Otremba, who served 13 years in the Minnesota House of Representatives from the Alexandria area, died Thursday. She was 63.
The president of the Minnesota Chamber of Commerce David Olsen also passed away::
He was 57, and died from non-Hodgkin lymphoma. He'd been fighting the cancer for 18 months, and recently was thought to have been in remission.
Thanks for your feedback. If we like what you have to say, it may appear in a future post of reader reactions.