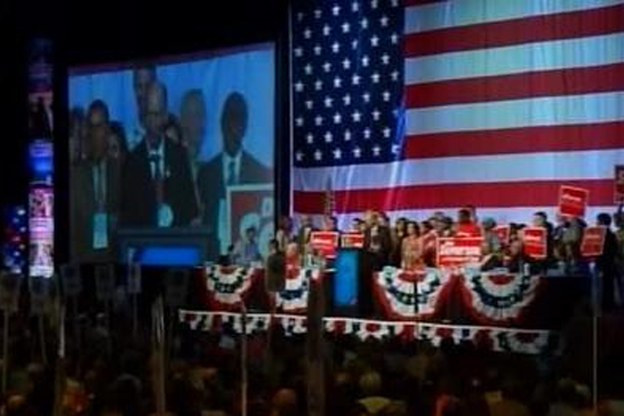 Assault and Criminal Damage to Property
The melee began Friday night when Andy Parrish, Ortman's campaign manager, cuffed Jeff Kolb like a common cur.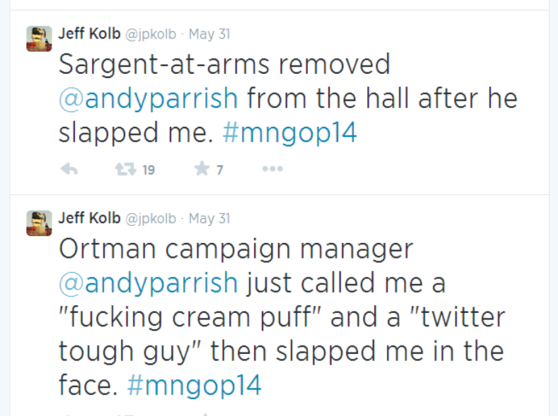 Now, I've met both Parrish and Kolb, and Kolb is a head-and-a-half taller, so it was a reach for Andy. Not only that, he's lucky that Kolb didn't turn him into a (silly) goose liver pâté on the spot. Good on you, Jeff.
But this was just the preliminary round, so to speak.
On Saturday, when best man to Jeff Johnson, Marty Seifert, bolted the altar and turned himself into the worst man, a spontaneous demonstration broke out.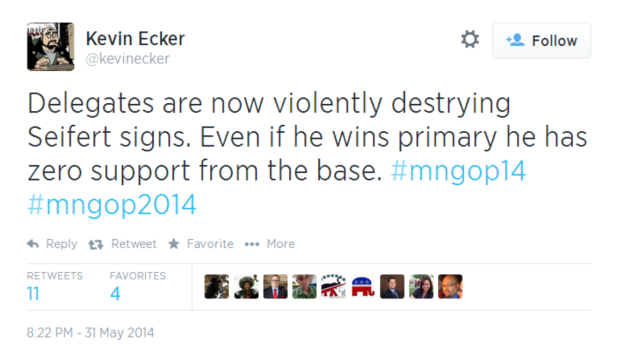 Conservative radio talk show personality Ben Kruse observed that Marty would have many fewer lawn signs for his campaign!
Perhaps leading the charge was new party chair and my Edina homie, Keith Downey:
State party Chairman Keith Downey denounced Seifert and one convention delegate was seen throwing a Seifert sign to the ground in anger.
All in all, a memorable affair.
Update: Here's what Michael Brodkorb reports this evening (Sunday) about the denouement of the Republican convention. It may explain why the Seifert staffers did not stick around and collect the campaign's signs.
After Seifert's speech, Johnson supporters reportedly pushed/spit on Seifert's campaign team. The sergeants assisted them in exiting. (2/2)

— politics.mn (@politicsdotmn) June 2, 2014
Thanks for your feedback. If we like what you have to say, it may appear in a future post of reader reactions.