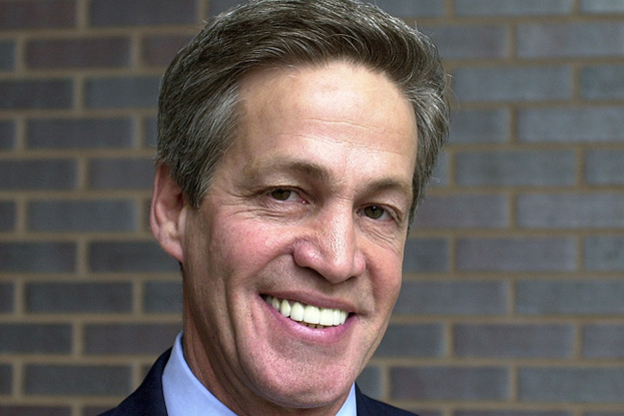 Send in the lizards
This is a photograph, not retouched, by the way, of Norm Coleman. Norm Coleman is many things, among them, the chair of a political hit lit organization called the Minnesota Action Network. The treasurer, a callow Bat Girl to Norm's Batman, is Gina Countryman. Okay, that mixes bats and lizards. But I'm sticking with it.
This outfit first came to my attention this past week when it mailed a "comparison" of the DFL rep from my district, 49A, Ron Erhardt, to the Republican challenger, Dario the Silent. I wrote about it, in a story you can read here. You can also read the lit piece itself at this link.
A day or so later, someone gave me another hit lit piece, also from the Minnesota Action Network, nearly identical really, against Peter Fischer, a rep from the White Bear Lake area.
They're remarkable, reptilian work, really. Back to lizards, I guess.
As I pointed out in the earlier story, the Minnesota Action Network had raised only $500 in its entire miserable existence up to the time of the primary election in Minnesota in August. These two lit pieces probably cost at least $10,000 together, and perhaps there are more, so the M.A.N. has obviously ramped up its fund raising in recent weeks. Jeff Larson, the guy with the big credit line at Nordstrom's, was in for the first five hundred and has probably been a big contributor since then. We won't know for sure until just before the election, when the pre-general camfi report must be filed.
Update: Actually, we know more now, since political funds have to report more often, because of a law change last session, I believe it was. Anyway, M.A.N. did raise some money since the last report. In a report filed with the CFB on September 23rd, it discloses contribution of some $350,000, including $50,000 from Rosen Diversified, and $300,000 from the Minnesota Action Network. This is the evil twin blind money drop.
Expenditures for lit pieces like the one sent to residents of district 49A are supposed to be independent of the candidate's campaign.
Okay. I guess. Whatever.
This lit piece is good news and bad news for Dario Anselmo.
The good news is that somebody is finally saying something for the campaign. Other than stating on Facebook that he was unalterably against invasive carp, I don't think that Anselmo has taken any specific policy positions since he announced that he was running. He's sure ducked me.
The bad news is that the lit piece is titanically, jaw-droppingly, stupid. According to the piece, Ron Erhardt is neglecting roads and bridges in Minnesota, and that we ought to elect Dario Anselmo as their new champion.
If Batman and Bat Girl (there are the bats again) knew anything about the history of the district — which they obviously don't — they would have stopped to think about the fact that Dario Anselmo was endorsed by the same people who threw Ron Erhardt out of the Republican Party in 2008 because he was a champion of roads and bridges.
Seriously, this level of brainlessness stuns me.
Rep. Erhardt is the chair of the Transportation Policy Committee in the Minnesota House.
And just by the way, a lit piece from the Erhardt campaign arrived at my house on Saturday, September 20th. Here are some of the things mentioned about Ron Erhardt:
Chief author of the 1-494 rehab bill. (That's a road, isn't it, Norm and Gina? I think there are bridges on it, too.)
Led the efforts to require the MAC to do a noise study before the implementation of new flight patterns by the FAA.
Instrumental in obtaining tax increment financing for the redevelopment of a significant community asset in Edina, Southdale Center.
He also supported improved education funding (after a decade of neglect by guys like Tim Pawlenty and Kurt Zellers), modernizing transportation funding, and women's workplace equity.
 Dario Anselmo, (caution: new image alert!) like John Alden, has trouble speaking for himself; he's going to need a lot of outside supporters to have a chance to win. But they need to be brighter than Batman and Bat Girl.
The bats win by a nose.
Thanks for your feedback. If we like what you have to say, it may appear in a future post of reader reactions.